- FEBRUARY 2018 -
EDITORIAL
Leave-taking
by Flavia Pankiewicz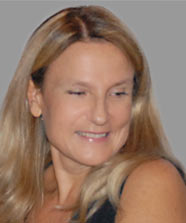 I
had trouble sitting down to write this editorial… it was never the right time. I'm running late and I apologize for that. It's just that I would have preferred not to have to write it. The reason is that it's a leave-taking, a farewell to my readers and to the people who have worked with me.
After ten years coming out in hard copy, a break of a few years, then seven years of publication online, Bridge Puglia USA is closing down. We are unable to avoid it. With our readers, I'd like to go through the history of the magazine, which started as an act of love for the region of my birth, and from the passion for the "American dream" shared by a whole generation of migrants.
Bridge was founded in 1996 as an annual print magazine in English, with the name Bridge Apulia USA. The aim was to promote Puglia in the United States and to develop links and cultural exchanges between Italy and the US, especially with the world of Italian-Americans and of Apulians in America. At the time the region of Puglia was largely unknown in international tourism and the idea of promoting it in America, starting from a world capital like New York, was an almost pioneering task. We carried out that task for just on ten years, not only by publishing and circulating the magazine among American opinion leaders, but also with cultural events promoting Puglia, organized in New York, Chicago, Los Angeles and Philadelphia. This was done with a little help from the Regione Puglia and other bodies, and with a great deal of passion, enthusiasm and hard work. Our events, talks, exhibitions and meetings were almost always held at the Italian Cultural Institutes but also at the Italian Consulate in New York and at various American universities.
Though merit undoubtedly goes to the cinema, capable of going deep into the collective imagination like no other medium, and to the many directors who have set their films in the region, we are convinced that a small tile in the great mosaic that has today made Puglia a sought-after world destination is the result of its being promoted for ten years in America through our magazine and our events.
After a few years' break, Bridge was revived in 2011 as an online publication with the name Bridge Puglia USA. Entirely in Italian and English, it was unique in directing the gaze of Puglia across to the other side of the Atlantic. The US we are looking at is very different than the dream we nurtured over twenty years ago, but despite the political direction taken, the emotional ties with Italy have survived intact.
We have produced hundreds of articles penned by respected journalists, writers and experts in various fields; thousands of photos, most taken by artists rather than simple photographers. Over 600 thousand contacts have visited our pages (visualizing more than 1,300,000 pages), from all over Italy, from over a thousand cities, from the United States and from more than two hundred other countries in the world.
However, the approval of our readers and the attention coming from both sides of the bridge, was not matched by enough financial resources to maintain a business not supported by any public funding. Despite all our efforts, it was impossible to make enough advertising revenue to cover costs or to create a sales network that could handle this aspect.
Nevertheless, it was an inspiring experience, thanks above all to the wonderful contributors with whom I have had the honor of working. Great names and high profile experts have collaborated voluntarily, just for the pleasure of appearing in Bridge Puglia USA. Below are my heartfelt thanks to each of them.
Finally, a huge thank-you to all our readers. Thank you for the many emails of appreciation you have sent me over this time. I have printed them all and treasure them dearly.
My first editorial in Bridge, in 1996, opened with a quote from the French philosopher Gilles Deleuze, taken from his essay "On the superiority of Anglo-American literature": One writes only out of love – all writing is a love-letter. And I would say: One publishes only out of love. Others, those who read us, are the reason we write and publish. That thin but powerful line of communication between writer and reader, the relationship with our readers, finishes here. Perhaps forever. Perhaps for a period, either long, or as I hope, short.
Enjoy life! 
Thanks
Special thanks go to those who have been the real mainstays of the magazine: Lino Patruno, journalist and essayist, for thirteen years editor-in-chief of the Gazzetta del Mezzogiorno, who has written tens of articles for Bridge in his beguiling, lively style, entrancing the readers; Pietro Marino, prestigious art critic, formerly co-editor of the Gazzetta del Mezzogiorno and wonderful friend, who as well as many articles has also been generous with precious advice; Alberto Sobrero, linguist, former chancellor of the University of Lecce and president of the Italian Linguistics Society, who contributed a permanent column of great interest about proverbs in Apulian dialect, brilliantly illustrated by the artist Bruno Maggio with ink drawings created especially for Bridge Puglia USA; Dario Ersetti, who wrote one of the most popular columns, on Apulian cooking, an expert with skills comparable to those of the top Italian chefs, and who wrote tens of articles accompanied by his own photographs, often with detailed notes by the dietician Novella Pranzo Zaccaria showing the properties of the main ingredient of each recipe.
Not to mention the hundreds of images provided by Nicola Amato, intellectual and photography wizard with the ability to convey unique emotions through his pictures.
Special thanks go to Raffaele Nigro, Rai journalist and "Premio Campiello" writer; to the film critic and curator of the culture section of the Gazzetta del Mezzogiorno, Oscar Iarussi; to my very dear American friends, Michael Pesce and Christina Figueroa Pesce.
A thank-you full of gratitude and affection goes to the great Joseph Tusiani, poet, writer, latinist and translator, Apulian and American, unquestionably the symbol of our magazine. Bridge contains articles written by him, interviews and articles devoted to him and many of his poems. Our poetry section has pride of place in the magazine and choosing the poems to publish was an extremely enjoyable task. The ones I chose resonated deeply with me and I am grateful to all the poets for the joy with which they agreed to be published. Thanks to Lino Angiuli, Francesco Aprile, Carlo Alberto Augieri, Toti Bellone, Antonio Belpiede, Barbara Carle, Marcello Comitini, Maria Felicita Cordella, Sergio D'Amaro, Marco F. D'Astice, Tommaso Di Ciaula, Maurizio Evangelista, Luigi Fontanella, Daniele Giancane, Alessio Laterza, Teodora Mastrototaro, Adeodato Piazza Nicolai, Anita Piscazzi, Giovanna Politi, Rita Rucco, Paolo Valesio, Walter Vergallo, and to Robert Viscusi, the great poet, writer and founder of the Italian American Writer Association, who way back in 1996, for the presentation of the first issue of Bridge (hardcopy) in New York, wrote an extraordinary poem, the first that we published online, dedicated to our magazine, to our bridge of culture and feeling joining the two sides of the Atlantic.
I also want to thank the publishers who allowed us to publish poets like Vittorio Bodini, Alda Merini, Cristanziano Serricchio, Maurizio Cucchi, Giovanna Nosarti and Ernesto Treccani.
My thanks go to Antonella Marino, art critic for Repubblica, for her magnificent column with monographs on young Apulian artists who are making a name for themselves in Italy and abroad, which it is a tremendous pity to interrupt; to Emanuele Arciuli, world famous pianist with a passion for the culture of the American Indians, responsible for a very special feature on native American artists; to Sergio D'Amaro and Michele Presutto, for their impeccabile book reviews; thanks to the artist-photographers Santi Visalli, Madeleine Gehrig, Lauren Berley and Anita Sanseverino for the splendid images of the American continent; to Tiziano Thomas Dossena and Maria Lisella for their precious contributions from America; thanks to Emilio Nicolì for the fabulous photos of Salento; for many fascinating articles and for the images of nature and landscapes, thanks to Ferdinando Boero, Antonio Sigismondi, Fabio Ippolito, Silvano Marchiori, Piero Medagli, Giuseppe La Gioia and Francesco Minonne.
Thank you to the professional journalist Dario Nicoli, who contributed from the North of Italy with great enthusiasm and competence; thanks to Enrica Simonetti, Maria Grazia Rongo, and to Giovanni De Benedictis, who also looked after our social network pages brilliantly. Thanks go to Roberto Pazzi, Bianca Tragni, Raffaella Cassano, Franco Ungaro, Ettore Bambi, Dino Levante, Peppino Ciraci, Franco Faggiani, Vito Spada, Giuseppe Piccioli, Angelo Pellegrino, Domenico Tangaro, Nicolò Carnimeo, Vincenzo Zagà, Paolo Mele, Francesca Pastore, Emanuela Rossi and Salvatore Inguscio.
Our thanks go to Giacomo Annibaldis, Mario T. Barbero, Nancy Clare Caponi, Lorena Carbonara, Gianfranco Ciola, Anna Maria Conserva, Livio Costarella, Enzo Cripezzi, Michele Cristallo, Marco Dadamo, Francesca De Filippi, Vittorio De Vitis, Stefania Dodge, Giuseppe Orlando D'Urso, Giuseppe Mauro Ferro, Luigi Formisano, Giovanni Invitto, Annie Lanzillotto, Giuseppe Lupo, Paola Marino, Vittorio Marzi, Giuseppe Massari, Giuseppe Mazzarino, Martino Miali, Domenico Roscino, Isabella Rossiello, Ugo Sbisà, Aldo Siciliano, Paolo Spedicato, Sarah Stanbury, Laura TundoFerente and Nino Vinella. Thank you to Margot Balboni, Pierluigi Bolognini, Marco Caselli Nirmal, Lucilla Cuman, Angelo De Pascali, Giovanni Mario Ferente, Roberto Gennaio, Caterina Gerardi, Giuseppe Guida, Andrea Laudisa and Pino Vinella.
A special thank-you to Nichi Vendola, for his short but deeply-felt portrait of Don Tonino Bello, written specifically for Bridge during his term as president of the Regione Puglia, an article that is more relevant than ever today on the eve of the visit by Pope Frances to Molfetta and Alessano, places linked to the unforgettable bishop of Molfetta.
Thanks go to our magnificent translators: Susan Perry and Joan McMullin, and to those who helped to translate the first online issues: Awdie Coppola, Silvia Perrone and Brenda Epifani. I am grateful for the great professionalism and efficiency shown by Scirocco Multimedia, and special thanks go to Cinzia Mappa, Irene Moscatello, Vitali Motchalov and Marta Valiani. Thank you to the copywriter Valeria Ippolito. Thank you to the webmaster Giuseppe Bagordo. How could I not mention Carlo Conversano, who passed away less than a year ago, and who created the image for Bridge in 1996 and for the online version in 2011, a brilliant graphic artist, exceptionally professional and immensely generous.
A special thank-you goes to Spot Mail, to Michele Giordano and to all the advertisers who enabled us to stay online for seven years. In particular, I wish to thank Cantine Due Palme, present continuously in our magazine since the first online issue, and its president, Angelo Maci, for his unflagging belief in our initiative.
February 3rd 2018