- FEBRUARY 2018 -
Books
Craco
The "second life" of a ghost town
Abandoned after a landslide at the beginning of the 1960s, today Craco, still deserted, is a tourist destination that attracts crowds of visitors and also a sought-after location for film and advertising from all over the world
by Lino Patruno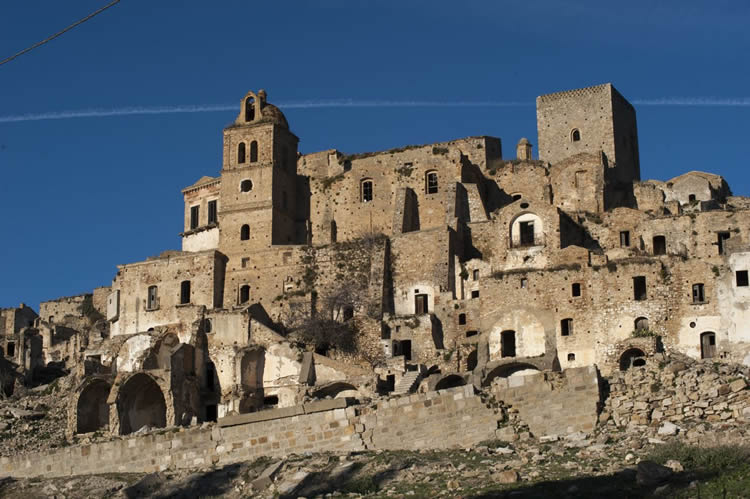 Craco (Matera). Photo by Nicola Amato
When I first went there, in 1987, Craco had been abandoned for some time. It was the landslide in 1963 that had made its two thousand inhabitants flee down the valley, from the 391-meter hill that could not stand firm. In front there were the eroded gullies of Lucania, a lunar landscape of stone terribly scarred by water. In 1972 a flood did the rest, then came the ill-advised works on the aqueduct, and finally the earthquake in 1980.
But even though Craco was already a ghost town, it seemed not to be. Its houses had been left with all their life still inside, almost as if one day they might be filled with people again, and would breathe afresh. Curtains waving in the breeze. Windows ajar. A pan still on the stove. A teddy bear. And here a table laid and ready. Covers on a bed. Voices, colors, smells and tastes were missing but it was as if they were there. Put on pause, we would say today. And there were a few diehards who really were still there, old people that wanted to die there. As well as a cat coming down off a roof. And the town seemed to be watching with its staring eyes hoping not to be forgotten.
Thirty years later, under a cruel August sun, the visitors swarm like pilgrims to a cemetery more than to a museum. Because Craco is still there. However all signs of real life have vanished, swept away by men rather than by time. After systematic looting, there are no longer even the floors, the garden fences have been pulled up and entrance doors removed. They have been taken away not like a relic of common compassion, but as a sign of barbarity that cancels everything out, starting from the past. The organ has been stolen from the church, leaving only the statues of the saints, just in case, you never know.
But in spite of everything, the tragic beauty of one of the world's hundred places to save seems to have endured all the insults. It owes its unexpected tourist success to its cruel fate, seeing that since the last mid-August holiday hundreds of visitors have walked through its pain. Indeed, they have introduced a "Craco card" in order to go through the safe part. There are thousands every year, speaking every language on the planet, drawn here by this Pompei in the fragile, troubled yet incomparably beautiful land of Basilicata.
It ought to be protected by a bell jar, up there on the hill, where it suddenly appears before those arriving along roads once trodden by bandits. Standing tall like a monument, aloof as a memorial, sad as a shroud, thrilling as a vision. The outcome of a fate that needed it dead so it could be brought to life. How could little Craco ever have imagined it would become the global product it is today. They say it's been the location for over ten movies, none of which were horror, and one was even a 007 of my name's Bond, James Bond fame. As well as television commercials for all kinds of new automobiles, on those breathtaking winding roads. There was one for Pepsi for the Japanese market. And also a Brasilian soap. This is its unimaginable "second life". Its uniqueness is also its final destiny.
It is hard to imagine its reconstruction, of which the technical aspect will not be as challenging as the bureaucratic side. The owners of the houses cannot be found. The order to evacuate has never been withdrawn, but forgotten with the passing of time and the emigration of its people. But above all Craco is providential, enabling guides, cooperatives and associations to make a living using the products of modernity. And so the ghost town will continue to stare at us forever, grim and heart-breaking and resigned. It will no longer attract us only as an unearthly alien place, the remains of a cosmic wreck, but with the secret hope of telling us its story, once upon a time, when a child played with a teddy bear.