- FEBRUARY 2018 -
Books
Pasolini-Matera
Fifty years ago the first Gospel in the Sassi
In 1964 Pier Paolo Pasolini chose the Sassi of Matera as the set for his The gospel according to St. Matthew.
Domenico Notarangelo's photography exhibition shows scene photos and evidences of an event that helped to change the destiny of the town. From "national shame" to "world heritage site"
by Giuseppe Massari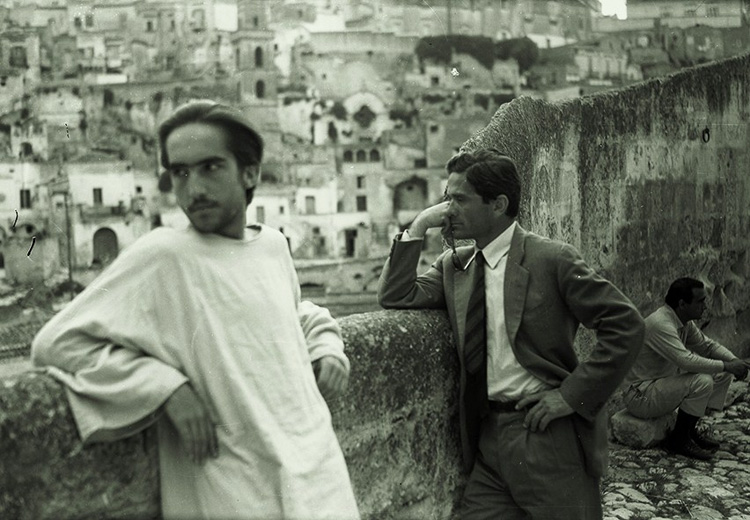 Matera. Pier Paolo Pasolini with Enrique Irazoqui (foreground), star of Il vangelo secondo Matteo (1964), during the filming of the movie. The picture is part of the photography exhibition "1964-2014 Pasolini Matera" by Domenico Notarangelo
Fifty years ago Pier Paolo Pasolini was filming The gospel according to St. Matthew in the Sassi (or "Stones") of Matera, a Southern Italian town that was almost unknown. The film had an outstanding cast: Enrique Irazoqui, in the part of Jesus, Margherita Caruso, Susanna Pasolini, Marcello Morante, Mario Socrate, Settimio Di Porto, Otello Sestili, Ferruccio Nuzzo, Giacomo Morante, Giorgio Agamben, Ninetto Davoli and Paola Tedesco.
Forty years later Mel Gibson chose the same place for the filming of his The Passion of the Christ, another work inspired by the life of Jesus.
Matera in a state of neglect won the attention of two great film directors and it proved to be the ideal setting for movies of this kind. In the meantime, the town was named a "World Heritage site" by Unesco and today, slowly but surely, Matera is gearing up for the adventure of being the possible "European Capital of Culture 2019".
The cave habitat makes the scenario of Matera unique and incomparable. The "Sassi" are its old center: cave-dwellings in the calcarenitic rock, crowded together, where life was lived in a primordial simplicity based on work in the fields, raising livestock and domestic chores.
In 1948 Palmiro Togliatti talked about the Sassi as a "national shame". The people lived in subhuman conditions. The Sassi had to be demolished. Pasolini on the other hand considered their destruction a crime against peasant culture. And the future proved him right, conclusively.
All this is what lies behind the photography exhibition "1964-2014 Pasolini Matera", by Domenico Notarangelo, which, starting from Matera, has drawn crowds in Lecce, Rome, Barcelona, Paris and Berlin.
Journalist, photographer and writer, Domenico (Mimì) Notarangelo worked as an extra on Pasolini's film (as a centurion) and was able to take the precious backstage and scene photos which today with this show and its catalog trigger a rediscovery of the roots of a town that in the last half century has successfully overcome great challenges.
And confirming Matera as a Lucanian "Jerusalem" or "Bethlehem" is a new set for the filming of Mary-Mother of Christ, produced by the Lucanian Francesco Di Silvio, with the direction of Alister Grierson, which will be released in cinemas at Christmas 2014.