- FEBRUARY 2018 -
Books
From Brooklyn to Polignano
Twelve artists out to conquer Europe
"The Still House Group", an emerging organization of young American artists based in Red Hook, the old port of Brooklyn, have chosen the Museo Pascali in Polignano to present their work in Italy.
A collective experience that is getting great results… and already some amazing prices
by Pietro Marino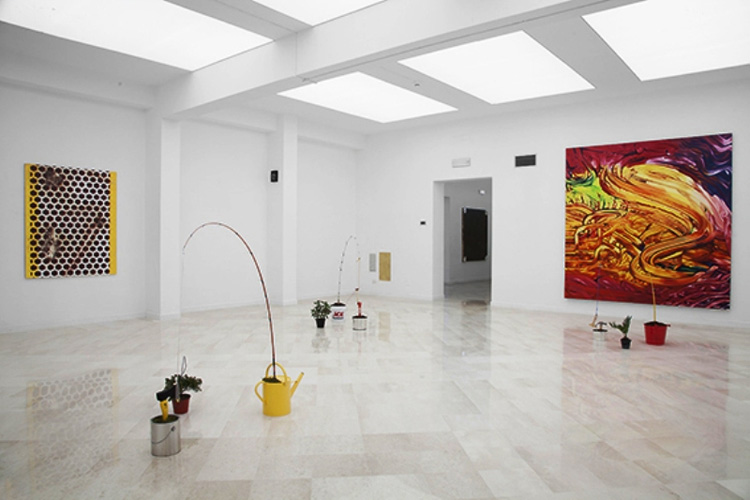 Polignano a Mare (Bari). Museo Pascali. "The Still House Group" exhibition
Twelve young artists from New York have chosen a museum in Puglia for their first big show in Italy. They are the founders and members of "The Still House Group". The name comes from the old distillery ("stillhouse") at Red Hook, the part of Brooklyn overlooking the Hudson where eight of them had their studios. They have descended en masse to the Museo Pascali in Polignano a Mare bringing their works with them or creating them on the spot. The exhibition has aroused a lot of interest because the young artists (all under thirty) are full of ideas and energy. They "reinvent" painting and sculpture citing American modern art (Aaction painting, Field painting, Minimal art, Pop art) ironically floating between Dada, Fluxus and Arte Povera. They have found favor with the young public and the rampant American market. This is confirmed by the exhibition mounted in the light-filled rooms of the museum devoted to contemporary art and named after Pino Pascali, the great artist from Bari who died at the height of his success in 1968 at only 33 years of age.
The entrance seems to be blocked by a room divider of transparent anti-riot shields. In other rooms the creator, Jack Greer, exhibits a delicate abstract surface of paper and cellotape "sewn" with thread as well as two large cityscapes where the graphic elegance is achieved by quilting scraps of cloth. There are plenty of similar exercises in deception. Alex Perweiler: geometrical series from enlargements of match-burns. Isaac Brest: three monochrome panels in Ryman style, but actually packing cases from various firms. Brendan Lynch is the opposite: gold and silver leaf boards with slight incisions that look like wall plates. Nick Darmstaedter shows a large work structured in clear chromatic fields: he has enlarged a Doors LP cover, eliminating the writing. Augustus Thompson stamps decorative glass bottoms. There is a striking canvas with wild slashes of red from Action painting: it was painted by Louis Eisner, monkey-style. Dylan Lynch exhibits a fake minimal sculpture with sides made of aluminum drawers. Zachary Susskind evokes fluid suppleness by hanging thin irrigation hoses found in Polignano and creates a Flemish painting montage out of cut-up photos with Italian "stories" (from Berlusconi to the Sopranos). A pretty installation of balcony flower pots hides deadly traps with fishing rods (Darmstadtaer again). Tubs containing floating apples (alluding to a game, 'apple bobbing') are scattered around by Alex Ito. Portraits in constantly wet paint by Halley Mellin and Peter Sutherland's mountain on perforated vinyl offer manipulations of painting and photography.
"Still House" was created in 2007 by the very young Isaac Brest and Alex Perweiler, who had come to New York from Los Angeles. They wanted to promote themselves and other unknown artists in a project of total self-management, an alternative to the gallery system. But there was no ideology or European-style collectivism. The artists involved (eight permanent members, others in rotation) work independently. They share the running costs, the organization of external exhibitions, the promotion and sale of works (aiming at collectors). 60% of the earnings go to the author, 10% to whoever was responsible for the single sales, and 30% to the common fund. Does it work? It seems to. Meanwhile behind them they have families with social connections, collectors ready to go, and a market hungry for new blood. There is the sensational case of Lucien Smith, 25, who when part of the group two years ago was selling his paintings for 2,000 dollars. He was picked up by the Phillips auction house (the current owners are Russian) and a month ago one of his works reached 369,000 dollars at Sotheby's. The others are ready to take flight. From Polignano they will set out on the conquest of Europe. They've already been to Brussels, London awaits them.