- FEBRUARY 2018 -
Books
My Puglia as seen from the UN
Interview with Ambassador Antonio Bernardini, of the permanent staff of Italy at the United Nations in New York.
Born in Barletta, he is proud of his education at the University of Bari.
Apulians have shown him affection all over the world. In New York he is the Honorary Chairman of the United Pugliesi Federation
by Flavia Pankiewicz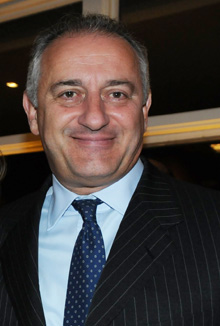 Ambassador Antonio Bernardini
In the midst of myriad bright lights in the big city it is a well-known fact that there are numerous residents hailing from Puglia, and there is a bit of Puglia even in the heart of one of the most important institutions in the world, the United Nations, where Ambassador Antonio Bernardini works as permanent vice-representative of Italy. Originally from Barletta and very attached to Puglia, he returns there every year.
The institution that launched him on his excellent diplomatic career was the University of Bari, where he read for a degree in Political Science, graduating in 1981. A background the ambassador is very proud of and which constituted the basis of a long career which has taken him to New Delhi, Geneva, Tokyo and to the United Nations in New York in 2001, with the title and rank of ambassador since 2010. So he has spent many years working in the field of multi-lateral diplomacy.
We meet him in the Delegation headquarters, on the 49th floor of one of the annexes of the General Assembly building, which offers a breathtaking view of Manhattan.
Ambassador, how is Italy seen by the other countries in the world? And, above all, how is it seen by those countries which are not yet democracies and see our instability, and our frequent ungovernability?
Italy is a country that the whole world watches with great attention. It is certainly seen as a country which is anchored to the values of democracy, liberty, a country which defends human rights, which fights important battles to safeguard women and children and for all these reasons distinguishes itself inside the U.N. The domestic political issues are interpreted differently from the internal debate in Italy. They are seen as the normal events of a democratic country in which there is an internal dialectic, and so the impact on the image of the country is relative. Of course there are some moments in which some episodes of Italian political life can be judged positively or negatively by the international public, but, on the whole, our country is respected for what it represents, for the values it defends, for its entrepreneurship, and for the activity of the communities living abroad.
What is your relationship with your homeland like? Do you often return to Puglia? What does Puglia mean to you?
Of course I'm very attached to Puglia, because not only was I born there, but I also studied there. I graduated from the University of Bari and I say it with pride because I have compared the level of education that I received with that of friends, students and colleagues from other countries and have formed the net impression that it was an education of the highest international standard. So I feel quite indebted to Puglia for a lot of things I have been able to achieve: it has been a fundamental aspect of my professional success. I still have ties with Puglia, my family live in Barletta, so I go back every year, I have a house there, I spend my holidays in Puglia. And, in this period in particular, the fact that Puglia is being recognized on an international level as one of the principal tourist destinations in Italy, the new Tuscany, or the Tuscany of the South, as it is often defined, makes me very proud when I speak of my homeland with any interlocutors I may meet. There is great interest in Puglia and I enjoy answering the questions and talking about the South of Italy in terms which are very different from the ones we are used to when speaking about the South of Italy. Puglia is a special case, a lovely place; hard-working and productive.
Are you in touch with the community of Apulians in the States?
Certainly. I am the honorary chairman of the United Pugliesi Federation. It was a very generous invitation that my Apulian friends in this association made when they asked me if I was available to take on this role. I agreed very willingly. There is, especially in New York, a large number of associations of Apulians with varying characteristics, because they all spring up around the local communities, so they are above all associations of people from specific cities or towns: people from Giovinazzo, from Mola di Bari, there are so many of them, they're great! This federation looks to put these associations together and unite our strengths while allowing each of them their own identity and pride. They are associations whose origins very often go way back, to the emigration of last century, many years ago. In some cases they are associations which have grown old. Combining them and finding the energy to organize events together, to give them a certain visibility, seems to me to be a good idea.
There is an important link between Puglia and the United Nations and that is the United Nations base in Brindisi…
Of course. And it is important that the people of Puglia know about it. The United Nations decide to make Brindisi the most important logistics base for all the peace operations in the world. So, where there used to be just a logistics base which was merely a sort of warehouse, it has now become an organizational center that serves all the U.N. peace missions; the most important center. For Brindisi it's a great opportunity for growth. There is a lot of economic activity around the Brindisi base that is strongly linked with the territory and can only bring benefits. There is, for example, a great demand to set up an international school in Brindisi because the managers of the United Nations who work there would like to have somewhere which can guarantee an internationally-recognized education for their children. This is what the base needs but it would certainly be a growth opportunity for the Brindisi area. I was reading some days ago in the newspaper that the Porsche company in Nardò has difficulty in recruiting staff because the local people do not speak English. If that is true, the sooner this kind of structure can be set up to offer an international-type education in Puglia, the sooner the local people will be able to take advantage of it and have more opportunities of employment inside and outside Puglia.
What is the episode that has struck you most in all your career abroad?
My first foreign mission was in India, in New Delhi. When my wife and I arrived, we went to this house and had just entered when we heard a loud noise of instruments from outside; we couldn't understand what was going on. We went out of the house again and found a band playing music and standing in front of it was a lady from Barletta who had married an officer of the Indian Army during the war and had gone to live in India afterwards. They had learnt of our arrival and had come to welcome us with a banner saying: "Ben arrivati Antonio e Ornella". Episodes of this nature have been the highlights of our wanderings around the world: it is incredible how well the tam tam of the people from Barletta or, in general, from Puglia, works even in places where you wouldn't expect to find them.
And what strikes you most about the United States, or New York?
I was in New York on 9/11, when the attack on the Twin Towers took place, and so I lived through that terrible, dark, sad time. But at the same time I have seen how this city, in the space of a few years, has managed to find itself again. It has been able to find the energy to go on, to react against the terrorist attack and find the strength to get back on its feet and go back to being what it is: a great reference point on a world scale, for freedom, for democracy and for the circulation of ideas.