- FEBRUARY 2018 -
Books
"Empire State"
New York is still the epicenter of art
Imaginative and kitsch works are on display, confirming the post-modern culture of the simulacrum. The Big Apple's conserves its leadership in the transformation of art into an industry on a global level
by Pietro Marino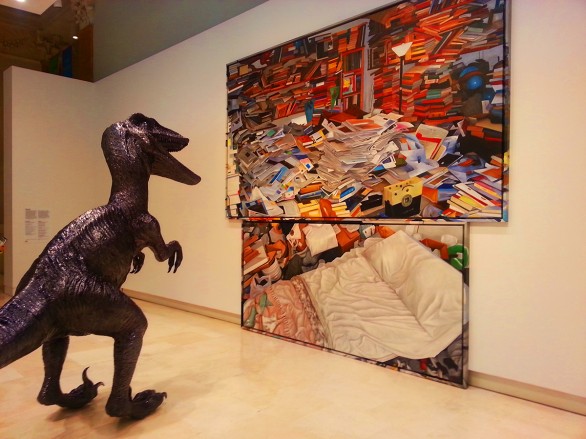 Rome. "Empire State. New York art now". Rob Pruitt
A large exhibition entitled "Empire State" is on at the Palazzo delle Esposizioni in Rome (until 21st July 2013). It aims to represent "New York art now" through its 20 authors. The reference to the historical name of New York City, coined, proudly in the era of George Washington. But is this leadership still valid, at least in the field of art? This is the challenging theme of the project born of the unusual meeting of the elderly man and authoritative English critic Norman Rosenthal and an ambitious New York curator, Alex Gartenfeld, of 26 years old. New York was the lighthouse of world art from the post-war world until the Eighties. But from then to now, as Sir Norman admits, "a real artistic explosion has made its mark on the whole planet". A consequence of "the planetary information cloud" but also of the new protagonism of Europe and of the Far East. "The transformation of art into an industry on a global level" accelerated and New York is the epicenter of this phenomenon. That is why it remains the heart of the international art world and continues to be an attractive melting pot for artists. It has even turned into a "city of spectacle", says Tom McDonough in one of the texts in the catalogue, citing Society of the Spectacle by Guy Debord (1967). The gentrification of the working-class districts of the city by the middle classes in search of lost authenticity is a sign of this. With a paradoxical effect: "By getting rid of the poor, the cars and the immigrants, by tidying up, by eliminating the germs, the petit bourgeoisie annihilates exactly what they came to find."
So the authenticity of the past and of experience turns into fetish and simulacrum – in a word, Kitsch. The relapse is evident in many of the experiences presented in Rome. Of course the identification of works of art as goods had its lucid prophet, Andy Warhol, right here in New York. A legacy taken on ironically by Jeff Koons, contaminating the classic and the banal: like the "sculpture" of Venus in green brushed steel on display in the exhibition next to a vase of flowers. Rob Pruitt goes after the playful nature of the spectacle in the 80s by counter-pointing a gigantic stegosaurus in black fibreglass with a wall of hyper-realistic "pictures". Keith Edmier's ciborium is a visionary pastiche that rises up in the round terrace. Its steel structure is meant to cite the old Penn Station which was demolished in 1963, and at the same time, the cupola structure of the Roman Pantheon.
With greater finery of concept and gesture, an artistar like Julian Schnabel overlays painted arabesques over photographic enlargements of 19th century panels that depict a victorious battle for independence on the part of George Washington. Joyce Pensato evokes Donald Duck and other heroes from the cartoons with energetic and dramatic painting in black and white, like action painting. Wade Guyton, however, cites the gigantism of minimal painting producing, with an inkjet printer, 15 meters of red and green horizontal stripes on linen canvases.
Few of them escape the post-modern culture of the simulacrum. There is further live experience of the urban scene in the great Dan Graham's transparent structures that multiply and interweave spatial connections. New York can be seen as the spirit of the world in a time of crisis in the video Les Goddesses by Moyra Davey: she goes round her room in a skyscraper, filming it, while leaving us to imagine what is happening in the city outside, as she tells her stories and those of Goethe, Freud, and Fassbinder, making many mistakes in a halting voice. And Adrian Piper, past master of analytical conceptualism, gives us four large blackboards on which he has written by hand in schoolroom chalk, 25 times, the phrase "Everything will be taken away". A threat or a promise, a prophecy or a wish?