- FEBRUARY 2018 -
Books
"Wood Stone and Friends"
Jimmie Durham's magic vitalism at the MADRE
A world famous artist, Durham, an American of Cherokee origin, does not repudiate his ethnic group but does not like to be labeled as "Native".
Also century-old olive tree trunks from Puglia among his works
by Pietro Marino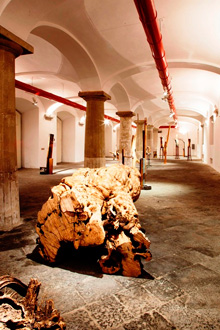 A picture of "Wood Stone and Friends",
Jimmie Durham's exhibition at the
MADRE (the Regional Museum of
Contemporary Art) in Naples
Two powerful roots of century-old olive trees abandoned in the countryside of Puglia now dominate as primitive sculptures at the Palazzo Reale in Naples. They belong to the exhibition of new works, made of wood from Apulian olive trees, trunks of walnut trees from Molise and lava pieces from mount Vesuvius, the work of Jimmie Durham, a Native American artist of international fame. Durham, who has lived in Italy for many years (in Rome, from January in Naples) was born in Arkansas 72 years ago in a Cherokee tribe. However, he does not want this to be mentioned any more: not because he repudiates his origins nor because he is at loggerheads with his people. On the contrary, as a young man, in the 70's, he was a spokesperson of AIM (American Indian Movement), and for a long time a representative at the United Nations in New York. But he, rightly, fears that his work as an artist, a poet, and a writer might be enclosed in cubbyholes and relegated to the ghettos of folklore and ethnic culture, almost a phenomenon to attract western tourists, as often happens in the surviving Indian reservations. "I want to be an intellectual; and I happen to be a Cherokee… but this does not mean that I am a different species of intellectual", he once commented with bitter irony.
"An exile in his own land" he has lived all over the world, in the 80's in Mexico – the country of origin of his wife Theresa Alves, who is also an established artist – and then in Europe, in Brussels, Marseilles, Berlin until he settled down in Southern Italy. Everywhere – even in the great international exhibitions in which he has participated – he has proposed an idea of art which is not monumental, not celebratory, but rather "poor". Art as an experience of knowledge that interrogates the places it meets, collects the fragments of their nature, of their history and of daily use and assembles them in precarious shapes from which, with poetry and irony, a magic vitalism is unleashed. Someone spoke about totems, another definition that Durham rejects for the same reasons and the same suspicions. There are no metaphors nor sorceries in his art, which for him is only "a part of mankind's thought process".
This is what happens in Naples: among the solemn Doric columns of the room that once was the horse stable of the Royal Palace of the Bourbons. Here olive tree wrecks are displayed, the ones he collected last summer near Ostuni where there is a masseria (fortified farmhouse) of Maurizio Morra Greco, the Neapolitan collector who through his Foundation has organized the exhibition in collaboration with MADRE, the Regional Museum of Contemporary Art in Naples. The "sculptures" rise like tree-characters on old tripods, small tables, and vase-holders retrieved from junk shops in Naples with their thin arms, outstretched shapely branches, joints fastened with metal hooks or with blacksmiths' clamps. "Wood Stone and Friends" is the name given to this sort of "forest", as the artist defines it almost recollecting the forests that belong to the memories of his childhood. The forests he left to live as a "postmodern savage" in the metropolitan civilization. In Rome, in another personal exhibition opened at the MACRO, the Municipal Museum of Contemporary Art, a base metal arch stands out on a wheeled platform. One can walk through it: it is a " portable monument", the Triumphal Arch for ordinary people, for each one of us.