- FEBRUARY 2018 -
Books
San Marino
Historic appeal amidst breathtaking panoramas
The extraordinary example of a people who were able to conquer and conserve their freedom without resorting to the use of arms.
Declared as a World Heritage site by UNESCO, the tiny Republic is headed by two Captains Regent who take it in turns to govern every six months
by Dario C. Nicoli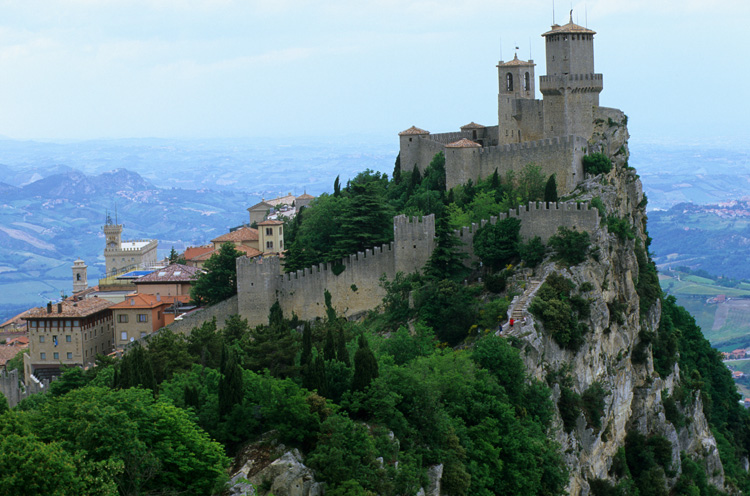 San Marino. Historic appeal amidst breathtaking panoramas. Photo Studio M. W. Santagata
      For the hurried tourist it's a sort of toyland full of shops displaying both splendid jewellery and also cheap paste fakes and souvenirs; for the businessman it's a fiscal paradise which, while not perhaps as safe as it used to be, is still profitable; for the historian it's a little workshop in which are concentrated institutions born of the libertarian yearning of an unconquered and proud people which has always claimed and defended respect for its rights. The Most Serene Republic of San Marino, a small independent enclave castled on Mount Titano, in the Romagna/Marche Appennines is an example of how it is possible – if you want it strongly enough – to conquer and conserve one's own autonomy and liberty by willpower and not weapons, whichever invader you are facing.
      Inhabited since prehistoric times and called after the stone-cutter Marino, the little Republic declared as a world heritage site by Unesco, which boasts 30 thousand inhabitants, has enjoyed autonomy since the 4th century.
      It was occupied by military forces twice – the first time by Cesare Borgia in 1503 and the second by Cardinal Giulio Alberoni in 1739 – but was able to rid itself of its invaders, re-acquiring independence within a few months. A political and social status it maintained with the arrival of Napoleon and for the duration of the Second World War.
      Amongst the numerous anecdotes concerning its history, one is about President Abraham Lincoln, declared an honorary citizen of San Marino in 1861, who demonstrated his friendship for the small Republic by writing to the Captains Regent: "... Even though your domain is small, Your State is one of the most honored in all history…".
      There are two Captains Regent who govern the Republic, alternating every six months. Their institution goes back to the first two Consul-elects of 1243. The definition of the first laws and Statues, inspired by democratic principles, was drawn up by the Arengo committee. Although by 1253 there is already proof of the first Statutes, it was not until 1295 that we have the first body of laws of the Republic of San Marino.
      These days the territory of San Marino is divided into nine Castles, which correspond to the old parochial districts of the Republic. Each Castle is administered by a Committee and headed by a "Captain", elected every five years.
      The "changing of the guard" between the Captains Regent takes place every 1st of April and 1st October and the appeal of the ceremony attracts thousands of fascinated visitors to the tiny Capital of the Titan, leaving them spellbound not only by the ceremony, but by the architectural beauty of the fortresses and the panorama that opens up before their eyes on looking towards the Marche or Romagna valleys, or towards the sea, that on certain clear days you feel you can touch if you just stretch out your hand.