- FEBRUARY 2018 -
Books
At the MAMbo Arte Povera on display
Works from the movement founded in '67-'68 are brought back to our notice, counterposing primordial elements against the opulence of consumer society. Restlessness that seems to be coming back to the surface with the indignados of today
by Pietro Marino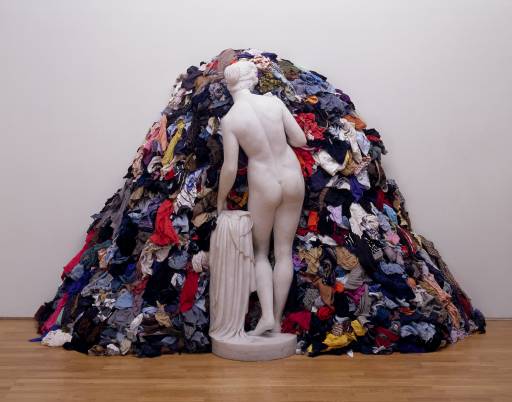 Pistoletto, Venere degli stracci (Venus of the Rags), 1967
      The word mambo does not only refer to a voluptuous Latin American rythym. It is the acronym of the Museum of Modern Art in Bologna, one of the most important in Italy for contemporary art. It is housed in a large, formerly industrial, building from the 19th century, which has been restructured by the Bologna city authorities, giving it large, well-illuminated spaces. On permanent exhibition are works by Italian and foreign authors and it organizes periodical exhibitions of great interest. One of these is the exhibition on Arte Povera Italiana, which began in September 2011 and will go on until January 2012. Arte Povera is a movement which began in Italy in 1967-68, and was so called by the critic Germano Celant because he proposed works and installations made with primordial materials – stones, wood, coal, water, vegetables – often animated by elementary physical and chemical energies (neon, gas, loadstones, vapors, acids), or sometimes even live animals, like horses or birds. The movement thus contrasted the images and assembly-line manufactured objects of Pop Art which reflected the "rich" society of mass consumption.
      Bologna was the city in which, in January 1968, the first official exhibition of Arte Povera was held after its beginnings in Genova. That is why the current MAMbo exhibition is displaying works executed in those first years by the 13 artists who made up the group. Some of them are in fact those that appeared in the collection of 1968 that was set up in a private gallery, De' Foscherari, in the historical town center. One of the works that was on view then and has come back to the museum is entitled "1 cubic meter of earth", and is a wooden cube covered in real earth attached to its sides, a dream of authentic nature, of Mediterranean soil. The artist, Pino Pascali, came from Bari, and in the same year was honoured by the Biennale di Venezia with the sculpture award, but on the 11th September, the same day as the Twin Towers attack, he died tragically in a car accident in Rome. He was only 33, but his fame has grown with time: last year the moma of New York bought one of his works for 2 million dollars.
      In the States in fact, many of the artists in this movement, which was to dissolve in 1971, gained fame and success, because their experiences resonated in the more vanguard tendencies of American art. So emotions sensorial and mental, and a sense of surprise, make a come-back, by courtesy of the Bologna exhibition. Twelve sacks laden with coal, by Jannis Kounellis (of Greek origin, but a resident of Rome). A statue of Venus plunging her Greek beauty into a pile of rags, by Michelangelo Pistoletto. An igloo brought about by curved metal sheets by Mario Merz. A bathtub that Gilberto Zorio imagines using as a boat.The tall trunk of an ash tree that bears the handprint of Giuseppe Penone. A lamp that should switch itself on once a year by Alighiero Boetti, another artist who died too young (in 1994, at the age of 54). While a group of flags wrapped untidily round a pole by Giulio Paolini drew attention to the restlessness that the young people of the West were experiencing from Berkeley to Paris to Rome. It was the year that gave its name to history: 68. A history that is trying to repeat itself in the movement of the indignados, from Madrid to Wall Street to Rome. That is why this exhibition in Bologna (the first in a series of celebrations in various cities in Italy, amongst which Bari, in December), is not just a historial re-evocation. "Arte povera" expressed the unease felt on observing a society that was too "rich". These days those precarious works take us back to a need for authenticity, for primary, concrete, true things, as opposed to a world swollen up with the finance of paper and screens.