- FEBRUARY 2018 -
Culture
And the dream of conquest turned into a mirage of the desert
Among the old family photos, turned yellow by the passing time, a man in colonial uniform in the Libyan desert. The war, the combat, the massacres. And above all the desert. In Sergio D'Amaro's latest novel, Il grande ghibli, the desert is a metaphor for life
by Michele Presutto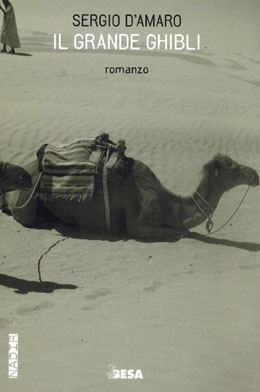 The desert that Sergio D'Amaro presents to us in his latest, gripping novel, Il grande ghibli (Nardò, (Le), Besa Editrice, 2016, 96 pages, 13 euros), would seem to be rather crowded. The author moves skillfully through time and space, leading us through a desert that has a pretext and a story to relate. The pretext is the hot wind that sweeps the desert mercilessly. The story is one which seems to have been forgotten under the ever-moving sand of the desert. The Libyan desert, in its immensity, is full of memories, of hopes, of lives suspended amidst history, dreams and reality. The story is sparked off by the finding (but how often do we find what in fact we have really never lost?) of some old family photos turned yellow by the passing time. A man in colonial uniform in the Libyan desert. The broken dream of a conquest that was to show all its limits over time. Like all conquests it will inexorably drag war, combat, massacres and concentration camps in its wake. The theory of race, that is underlined by barbed wire, a macabre foretaste of what was to happen not long afterwards in other latitudes.
But the conquest was to carry along with it, reality or demagogy whichever, also the dream of emigration while continuing to speak the same language. A sort of emigration in reverse; no longer derided or despised, the Italians would be able to work and prosper as free men, and maybe even as bosses. The desert, mysterious and implacable protagonist, turns into a scenario of great and small events and into a metaphor for an ever-discontinuous and unpredictable life. The desert thus becomes an impetuous mirror of a poorer Italy than today's, but also an Italy of good faith that doesn't exist any more. We went to Libya with the idea of growing citrus fruits like in Sicily, like in the Gargano, or on Lake Garda, but these days, in our shopping malls we only find lemons grown on the other side of the Mediterranean or the Atlantic. An ingenuous Italy, we might say today. Soldiers who mistake the night flashes of cannon fire for fireworks from village festivals.
An entire people caught up in a dream. Another entire people that rebels. In the middle, a geography in permanent revolt. In the end, as so often happens without us realizing it, it wasn't them who conquered Africa, but Africa that conquered them. During the Second World War the Italian troops tried in vain to break through the British lines. Today at El Alamein there is a memorial stone to remember the point of the greatest advance, at only 111 kilometres from Alexandria in Egypt. That stone, an enormous boulder placed in the desert, bears the words: "Mancò la fortuna non il valore" (Luck was wanting, not valor).
These are words that make us reflect. Perhaps, I think, it was not only the soldiers who fought who were wanting in luck, but also all those who followed a dream which was to be smashed. But the relationship between luck and valor has another name, too. We call it life. The desert is like the walk of life, discontinuous and unpredictable. The hope is that beyond the dunes you can see a city and the walls of the houses, the health-giving palm trees, the minaret that beckons the faithful. You come instead, across another immense hollow…