- FEBRUARY 2018 -
Culture
Joseph's Gargano

In a book from Schena, Antonio Motta's long interview with the Italian-American poet, writer and Latin scholar Joseph Tusiani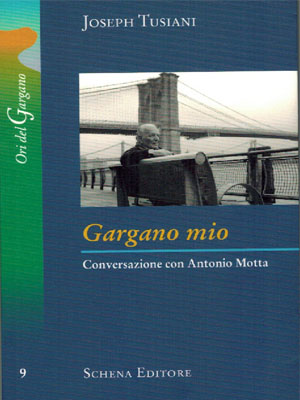 Antonio Motta, editor of the series Ori del Gargano (Gargano Gold) published by Schena Editore (who took over this role from the sorely missed Giuseppe Cassieri), tells how this conversation with his great fellow countryman and friend Joseph Tusiani came about.
I had close contact with  JosephTusiani since it fell to me to become the editor of his poetry in dialect, Annemale parlante (Talking animals), in 1994.
Tusiani had bought a house in San Marco in Lamis in via Palude, opposite no. 42, where he spent his childhood. He would arrive in Italy with Anglo-Saxon punctuality on May 4-5 every year (in time to see the departure of the "Cumpagnia" of San Michele Arcangelo for Monte Sant'Angelo, of which he was very fond) and would leave two months later.
During our conversations I realized that certain words and certain phrases aroused deep feelings in him.  I was fascinated not only by his books, but above all by his prodigious memory, his precision in reporting details and circumstances of an event, his bountiful eloquence, and by his voice which reverberated with a restless melancholy. 
In June 1997 I suggested that he recount his childhood in the impoverished San Marco under fascism. My idea was to fill a gap in his autobiography – published by Schena editore in three volumes – between his childhood and his years in America. 
Tusiani agreed reluctantly and advised me to choose a series of themes to be developed in interviews. The first meeting was fixed for the morning of May 23, 1998, in his study. His calm speech and his fluent, thoughtful story contradicted his initial resistance. His memory proved to be a storehouse of layer upon layer of facts, characters, and events that acquired substance and depth in the tone of his mellow voice.  
After the first meeting there were three others: on June 4, 16 and 20. Now and then he interrupted the recording for a break. He preferred scotch whisky which exhilarated him, I drank strawberry wine. 
Every time, I transcribed the conversation and asked him to read it. He  corrected very few things, and once added an episode that had slipped his mind. 
Part of the interview came out in 1999, in just a few copies. This edition restores the whole text and offers the reader a fluent, thoughtful tale that opens the treasure-chest that is the memory of a poet who started out from Gargano.    
Joseph Tusiani
Gargano mio Conversazione con Antonio Motta
(My Gargano Conversation with Antonio Motta)
Collana Ori del Gargano – Schena Editore