- FEBRUARY 2018 -
Culture
The tragedy of Mattmark
A book so as not to forget
In 1965, in Switzerland, 88 workers, mainly Italian emigrants, lost their lives due to an avalanche of ice while they were building a dam. A touching essay by scholar Toni Riccardi, from the University of Geneva, reconstructs the story
by Sergio D'Amaro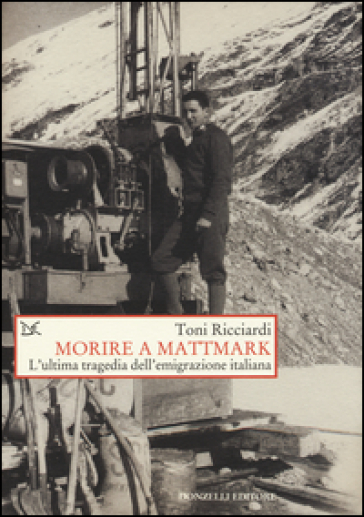 In an impassioned historical essay, Morire a Mattmark. L'ultima tragedia dell'emigrazione italiana (Roma, Donzelli, 2015, 172 pages, € 27,00), scholar Toni Ricciardi from the University of Geneva reconstructs the phases of a dark page in the history of Italian emigration; that of Mattmark, fifty years ago in the Swiss region of Vallese. ''It was quarter past five on that cursed Monday, 30th August 1965, when the Allalin glacier, which had been losing pieces over the past few weeks, split and lost more than two million cubic meters of ice and detritus. In a few seconds, everything – the huts, the works canteen, the workshops, dozens of trucks and huge bulldozers – were swept away and buried beneath more than 50 meters of ice and detritus''.
A catastrophe on a biblical scale that cost the lives of 88 technicians and manual laborers, involving mainly workers of Italian origin (56), of Venetian and Southern origin with an average age of 30. Amongst the Southerners there were men from Campania, Calabria, Lucania, Molise and Puglia (from Ugento and Tiggiano in Salento). The author lists, in an appendix, all their names as a rightful reminder of a sacrifice that had, as well as everything else, a paradoxical judicial outcome and, as almost always happens, did not slake the justifiable thirst for justice. 
In reality, the tragedy had been widely pre-announced. Signs of the glacier evidently giving way had been noticed in the previous months, mainly caused by particular sequence of meteorological conditions (very low temperatures in the preceding winter and then heavy rains). In the days just before the big slide, whole blocks of ice and some avalanches had fallen onto the enormous building site on the slopes of the Allalin. But this was Switzerland and it was thought that everything had been calculated to keep those hundreds of people safe while they worked tirelessly. A fatally superficial attitude that resembles very closely the catastrophe of Vajont, which had happened just two years previously, and that like Vajont was buried under an enormous lie and unforgiveable silence about an imminent danger.
The gigantic lobe of Allalin was no less cruel, situated as it was in a zone that had seen, since the 16th century, several floods, and had shown that the overwhelming beauty of nature does not always sit well with some of its behavior. Rousseau, Goethe and Chateaubriand, had all been charmed by the sight of the mountains of Vallese between the 18th and the 19th centuries, little imagining that a century and a half later those magic overhanging rock faces of two thousand meters and more would be the setting for hydro-electric levees of unprecedented power. Mattmark, at the height of its powers, was able to develop, from 1969 on, something like 650 GWh, satisfying the energy needs of about 150 thousand average families. It took 15 years, 97 thousand tons of cement, 2800 tons of reinforcing steel, 1500 tons of explosive, 81 millions of  kWh of energy, 51 km of tunnels to channel the waters and 14 million hours of manpower. 
It was this energy which fuelled Italy's economic boom. But all this cost superhuman sacrifices and lead to a great number of victims, as Dino Buzzati clearly pointed out in a superb article in Corriere della Sera of 1st  September '65: no trade union and no law court succeeded in delivering even justice to their memory, an issue which now, at last, only partially, but with vibrant pietas,  Ricciardi's book has sought to remedy.