- FEBRUARY 2018 -
Culture
Eighty years of joyful culture
In a book for the eightieth birthday of the intellectual Raffaele Cera, La memoria gioiosa (Joyful memory), the testimony of scholars and friends on his many interests and his untiring activity as a promoter of culture. The backdrop is his beloved birthplace, San Marco in Lamis. Introduction by Joseph Tusiani
by Sergio D'Amaro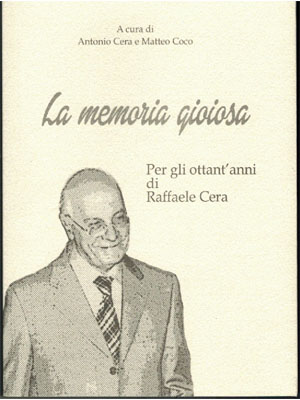 There could be no better title to describe the essence of a man. La memoria gioiosa (edited by Antonio Cera and Matteo Coco, San Marco in Lamis, Centro Editoriale San Marco, 2016, pp. 270) which perfectly fits the intellectual and human profile of Raffaele Cera, is a book of multiple viewpoints for his youthful eightieth year. It is a 'Joyful Memory', because while remembering is often backward-looking, here instead it is the counter melody to a world that tries to forget or marginalize everything in sad recollection. When you dig deeper and discover the cheerfulness of his disposition, it is easy to see that Cera's only great muse really is Mnemosyne, disguised as travel, as an encounter, as a book, or as a cultural event.
And so it happens, looking through the numerous books he has produced in the last fifteen years, that one feels the strong impulse to recover memory in all its aspects, sharing with the reader the same wonder and joy at reliving the amazing range of situations life puts at our disposal. This is highlighted especially by the ''Testimony" in the first part of the miscellany, like that of Francesco Lenoci, Don Luigi Nardella and Cosma Siani. In filigree, the friends nearest to his generation sketch another world, the one before the advent of modernity in Italy. And on the horizon, along with the boy's future as a teacher, school principal and later novelist and biographer, we see the ancient roads of the southern town in the form of San Marco in Lamis on the Gargano, its dignified poverty and hidden riches (especially its crafts), schooldays in makeshift buildings, the carefree explorations of childhood and adolescence.
For the author's peers (born in 1935) it is a world then found to be totally different, but that can and must be counterbalanced in its headlong rush into the future by the still active forces of healthy humanism. Raffaele Cera gives his best in the impassioned plea to cultivate the gift of knowledge, whether it be surprises and confirmations, revelations and insights, lessons and rewards. Whether it is in art of architecture, poetry or music (for which he has a special bent), or the greatness of nature, Cera's sensibility is capable of capturing viewpoints that arouse attention and sharing.
Apart from this, what the book also conveys is that a light must shine on the unceasing work as a cultural organizer that has marked Cera's life. Joseph Tusiani writes this in the preface, amiably joking about Cera's ubiquity, promoting events and presentations inside and outside his hometown. It is a merit that is an integral part of his personality and that defines him publicly in the eyes of the community.