- FEBRUARY 2018 -
Culture
The magnificent eighty
Amidst thinking back, weighing up, and worrying about the future, Sulla corsia degli 80, the latest book by Matteo Bonadies, is a song of praise for life and for the desire and possibility of living it intensely even at eighty
by Anna M. Conserva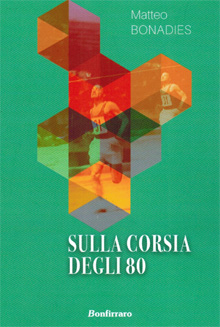 One step after another towards the finishing line, one chapter after another to sum up a whole life.
At every step and in every chapter we find the present and the past: in flashbacks we go through the adventure of Matteo Bonadies, experiencing with him his teenage frustrations and his first victories. "That day I came home, there was no comment. 'Did you know I broke the eighty meters record?' No reply, no comment, at the table they kept talking about other things, while my heart was racing with joy". The family obstructions, the constant fear of failing, the extreme but unconfessed sensitivity, the bitterness and the failures, the redress and the great successes. There is all this and still more in Sulla corsia degli 80 (In the 80 lane) (Bonfirraro, 2016, pp. 137, euro 15,90), a short account as well as last confession by Matteo Bonadies, jeweller and prolific writer from Barletta, Honorary Consul for the Republic of Malta in Bari, who continues, on the threshold of eighty, to untiringly pursue all his interests, including writing.
In this latest work, in a sort of confession, without filters he reveals the paths taken in his life and his fear of death. And it could be no different for a person who, about to turn eighty, a number that is repeated like a mantra, has lived life to the full, many lives perhaps, with energy and dynamism. "I like life, I like living, I like feeling alive… always young and active… I don't want to die… I'd like to continue to be young and to continue to live…" running, on foot, by car, by plane, with the imagination, in search of thrills.
Then there are memories of love satisfied and of love that never quite blossomed, of family joy and social recognition, and questioning oneself on the great mystery of life and death, the latter a tangible fact made manifest by the inevitable loss of loved ones.
These pages are little frescoes, snaps of life, admittedly accompanied by a veil of sadness but exuding an uncontainable love of life, a desire to relive it through memories but also to continue to live it intensely, more and still more.
There's no doubt, Bonadies would agree with what the great Woody Allen once said with his magnificent irony, "I'm strongly opposed to death, I always have been".