- FEBRUARY 2018 -
Culture
San Marco in Lamis seen from its bell-tower
Thirteen snaps by Michele Lariccia, collected in a splendid album, offer us an unusual perspective of this little town on the Gargano
by Sergio D'Amaro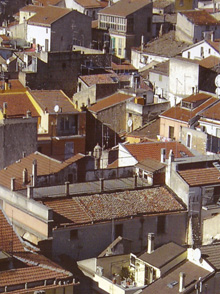 "Thirteen clicks"? I'd prefer to say thirteen acts of reverence towards our town by an audacious photographer''. These are the words of Joseph Tusiani in his introduction to the photo album by Michele La Riccia whose subject is San Marco in Lamis and is entitled ''13 click'' dal tetto del campanile (Foggia, Edizioni del Rosone, 2015, € 10). Quite a feat, that of scaling the bell-tower of the mother-church of this town on the Gargano during restoration work one hot summer's afternoon, so as to swiftly steal snaps that had never been attempted before, and implicitly compete with the likely vision that only the birds that flutter around the monument can normally enjoy.
From it come unusual glimpses and perspectives, like that of Palazzo Badiale, seat of the City Hall, breathtaking in a close-up in all its energetic 16th-century might, or the plunge into the old town centre between Via Lungo Jana and the 'Palude', where even on high the balconies riot like merry rascals. The encounter between ancient and modern is evident particularly in the objective that frames the centuries-old Convento di San Matteo towards the East, seraphically tolerant of the squared-off buildings in reinforced concrete that "flee" from near to far along the stretch of time that separates the Seventies from the 21st century, set in the multiple eyes of the windows of the Istituto di Scuola Superiore ''P. Giannone''.
In the center of the album we see the statue of Padre Pio mounted on a pedestal in the shape of a base of a cone, that branches out in geometric motifs like the roots of the good local stone as far as the metal fence: an appeal to the fervent religiosity of these places, added to which the oxygen of the park and the avenues, with the noisy and contradictory presence of the traffic at the crossroads. From that height the town takes on another flavor, a mix of familiar and fleeting, of what the memory retains and what projects itself willy-nilly towards an unknown future.
At this point, the emblematic photo would seem to be the one taken with the wide lens, facing north, of arid hills below which the blinding white of the houses huddling up to the strong winds of the City hall stands out. Top left, the constructions built by some fearless draughtsman beloved of cementifiable altitudes.
Yet more contradictions, more life, in this album by La Riccia who saves landscapes and visions from oblivion, while their continuous transformation is well symbolized by the whole-page photo that launches itself over the muddle of roofs, chimney-pots, turrets, terraces and T.V. aerials to witness the great riot that can be the history of a southern Italian town, portrayed by the very human click – not of a drone – but of a skilfully trained hand.