- FEBRUARY 2018 -
Culture
Story of a poet between Puglia and America
Recently published by Bompiani, In una casa un'altra casa trovo, the autobiography of Joseph Tusiani, edited by Raffaele Cera and Cosma Siani, in a new version, easy to read and incisive.
A new life amidst the skyscrapers of the mighty America, never losing sight of his beloved Gargano, where his life-story began
by Sergio D'Amaro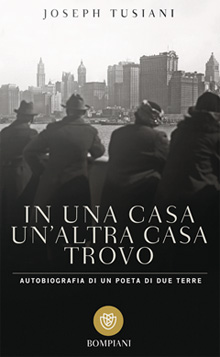 The new edition of Joseph Tusiani's autobiography is entitled In una casa un'altra casa trovo. Autobiografia di un poeta di due terre (In a house another house I find. Autobiography of a poet from two lands) (pp. 430, euro 15). It is published by Bompiani and edited by Raffaele Cera and the anglicist Cosma Siani. The revised, shortened version was naturally done under the supervision of an extremely clear-headed Tusiani, now over ninety. The story thus reworked has gained in compactness and is an exemplary life-story. In the afterword the editor is right to say that Tusiani's most intimate nature is totally autobiographical, so his new "house", expunged just as he was about to say goodbye (as in the poem Farewell published some time ago) appears more comfortably furnished with memory-furniture, with image-paintings, with situation-rooms that furnish a world which meanwhile has changed radically. As in any other journey, the energy goes into retaining one's own integrity in the perilous future that is taking shape. While in the original version of the autobiographical tale the key symbol was the "word" (in its vast range from the linguistic to the religious field), here the key symbol becomes "house", perhaps with shades of Heidegger's house of being. For Tusiani finding ''a house in another house" means taking his Self into another dimension and measuring its boundaries, but also bringing to light the treasures from outlying areas, seemingly defeated, and from memory, into a very different world.
This author's basic attitude therefore becomes the respect and valorization of every moment that fortune brings. And what fortune brings him is not to be sneezed at: the trauma of an absent father, being uprooted from his ancestral setting, getting to know America, which confirms its place as a myth, self-realization as a writer and intellectual landing amidst the sky-scrapers of Manhattan after decades spent teaching in well-known universities and involvement in prestigious organizations. The Gargano is still there to remind him of where one day he started out on the adventure of his life, with one eye cast down towards Pascalian depths, and the other on the solid foundation of his beloved classics.
This book tells the compelling tale of how the destiny of a man is built. It all seems to pass in a moment, the calendar is quickly flicked through: and we didn't even notice that we now knew how to build a house outside our own country without having to reject the past. The house is nicer, tidier, more colorful and America (the strongest of the myths that accompanied more than a generation from Charlie Chaplin's gold-rush to Bob Dylan's heart-rending ballads) is no longer the alien place of a distant world, but just the opening of a door that took us into a bigger room, without the childish fears attached to this waiting, to this discovery.