- FEBRUARY 2018 -
Culture
Worked to death under the sun of Puglia
The death of Paola Clemente, a farm laborer who lost her life last July while working in the fields in conditions reminiscent of slavery, is the focus of a book by Enrica Simonetti, Morire come schiavi, la storia di Paola Clemente nell'inferno del caporalato (Dying like slaves, the story of Paola Clemente and the hell of the gangmasters) just published by Imprimatur Editore.
We are pleased to print an extract
by Enrica Simonetti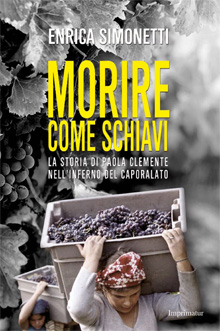 A plump face and a calm gaze, with scarred hands hidden under the table: I am looking at the last photo of Paola, taken on a happy day, at least four months away from this torrid place that marked her end. Now that her body is here where I am, in the Andria morgue, full of journalists, TV cameras and smartphones, I wonder why it is only today that we are entering the life of this woman, Pugliese like me, who at the age of 49 died from overwork in the constant humidity of a tendone in the countryside, under a cloak of silence and omertà that allowed someone to use her labor for hours and hours, repaid with a handful of euros and no rights.
A farm laborer. In actual fact it's the first time I've ever met one; we live in worlds that are only seemingly adjoining and this feeling is disheartening, now that we are all here, reporters and correspondents, to tell the tragedy that is not just a single case but is the life of thousands of workers like Paola: women, immigrants, people who every night have a "gangmaster" that takes them to the fields in a minibus along miles of roads full of curves and devoid of humanity. That is how Paola set off, too, every night at 3 a.m. from San Giorgio Jonico, from the Taranto side of Puglia, towards the north and the countryside between Canosa and Andria, smelling of grapes warmed by the sun. I do a few sums on that journey in the dark, which must have been hard: 150 km each way, 300 altogether every day, after at least 7 hours' work, with their arms raised high to pick the grapes dangling in the faces of Paola and the others. I try to imagine the journey home, 12 hours after setting off, with Paola who perhaps could still feel the vine leaves grazing her face. Strange, for a moment I feel I am sitting beside her in the van packed with at least 20 people and I seem to see her, with her head leaning on the window and her sweat clouding the glass; around us everybody is asleep. Even Rosa, the sort who would never stop talking, who could talk to the stones of the Murgia pugliese. The young Moroccan whose name nobody knows is asleep: sprawled on the seat with his mouth half-open, he seems to have lost everything, including his proverbial wariness.
Fortunately after a few seconds I manage to come round. I return to being a reporter for the paper with a breaking news article ready on Paola's death: seventy-five lines to sum up a drama, a life. I was sent here by chance: "Stefano is on vacation, Gaetano is leaving tomorrow... come on, just this once, you go, after all it's a female topic. And then perhaps we'll hand it over to one of your colleagues, OK Monica?". And here I am, like so many other "information workers", talking about a universe I don't know. The gangmaster system. Small grapes, vineyards, laborers exploited like animals. I look at my blue nail polish, I look at the cameraman, actually a camerawoman, right near me, who is doing nothing but complain about the delay in the press conference: "But do they realize that we have to go live in 50 minutes? What's stopping them from giving us the news?". The journalist with her goes out to have a cigarette and I decide to join him. I find about ten other people, all sharing the "breath of fresh air" which lets us enjoy each other's company for a few seconds before going back into our separate worlds.
(...)
It is a glimpse of the Medieval that appears in what some people call the California of the South, the Puglia of tasty tomatoes, delicious olives, sweet grapes for export to many parts of the world. The Puglia of the sea and the luxury masserie, the Puglia of trulli transformed into 5-star resorts. In this harsh, beautiful region, splashed over travel magazine covers and adverts on English and Irish buses, there's the night of those who gaze at the stars from a beach and the night of those who travel to work. There are people who with false contracts or no contract at all, cover hundreds of miles to reach their precarious workplace, where their desk is an upturned empty fruit crate to stand on with arms high to pick the tiny grapes from each bunch.