- FEBRUARY 2018 -
Culture
When forgotten objects tell a life story
In Sergio D'Amaro's latest book it is an alarm clock, a book, a torch, an airplane that tell us about history and memories and also about daily life.
The poet and intellectual from Rodi Garganico creates a sort of Spoon River Anthology of lost and forgotten objects
by Michele Presutto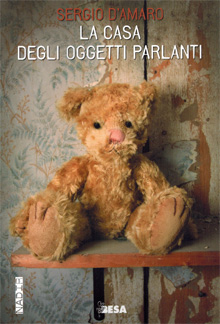 Can an old torch hold forth about the distant time when it lit up the rooms of houses and about daily life? And what about a book that has survived time and rough house moves? And how about a dusty, discolored western comic-book from the time when westerns were wild, but not yet pulp. And then there's a strange alarm-clock that has broken the thread that tied it to time, which is now absent and empty, but because of that, terribly hard to bear.
These are some of the questions that arise when reading Sergio D'Amaro's latest literary venture, which has the emblematic title La casa degli oggetti parlanti ("The house of talking objects"), published in 2015 in Nardò by Besa (94 pages, 13 euro).
The author, born in Rodi Garganico, is a respected, well-known, skilled poet, narrator and essayist with a rich cultural experience behind him. He is a specialist on Carlo Levi and also contributor, editor and director of various literary journals.
Sergio D'Amaro gives a voice to objects that live, breath and think. The book is organized in fourteen talking paragraphs, a sort of Spoon River, as the author himself has described it, of almost lost and forgotten objects. These objects quietly tell the story of their lives and of how they saw the lives of the men who surrounded them and used them. Daily life spills over into memory and has the smell of history. Great and small stories. From planes bombing during one of the last world wars to the return of an emigrant after many years of silicosis.
The background is houses, towns, roads and cafes. Real, tangible places, almost like google maps, but that are at the same time bearers of fantastic dreams. Places that smell of sea and lemons. The time of the past and of childhood, swirling faster and faster, made up of sensations and crossings, perceptions and spray from the waves in tumult.
The objects are used as pretexts, as justifications, to see the world from a special angle of observation, as it can only be seen by the unreal eyes of a book or the real ones of a child exploring the world and getting inexorably lost within it.
This is a book that one reads with a passion, full of strange, fascinating characters. The writing is sweet but also strong, as the author himself suggests when referring to an old alarm clock in which "the secrets of the cogs and wheels drive the complicated workings of the soul and make the pen into the good writer's seismograph needle".