- FEBRUARY 2018 -
Culture
Life, anyway!
In the latest book by Matteo Bonadies, Anyway. Venticinque anni dopo, the prolific author from Barletta takes another risk by revisiting his biography with passion and without reticence
by Sergio D'Amaro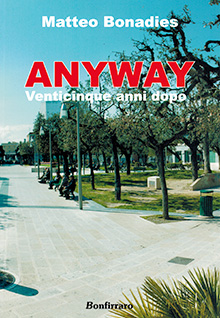 Matteo Bonadies, a singular and complex figure, entrepreneur-cum-writer in industrious Barletta, never tires of surprising his reading public by alternating fiction with wide-ranging memoirs of the past and the present.
With Anyway. Venticinque anni dopo (Enna, Bonfirraro, 2015, pp. 140, € 15,90) he goes back to insisting after several similar dips into the story of his life's track, not for narcissistic or self-absolving reasons, but out of a need to demonstrate his generous desire to take a risk and show how productive it is to write about oneself, express one's thoughts, reveal the evolution of one's soul. There is much of the Svevian balancing the books of ancient origin, supported later by books by writers like Alberto Bevilacqua (I sensi incantati) and by Romano Battaglia (Storia di settembre); they, too are both experts in devastating neuroses and shining resurrections.
Bonadies opens up his heart, knowing that the telling of a meaningful experience can help someone who is going through a difficult time, fundamental phases in the growing process, suffering in the first person the wounds and burns of a disease that can devour you. The author proceeds to dovetail slices of life with considerations on the reality he experiences, old memories of the war as he lived it as a child, and stories of his many trips to Milan on business.
And we should underline, at this point, what Bonadies' trade is, that is, a jeweller. A tradition, a passion, handed down from father to son and now, in the full flow of the 21st century, facing a totally changed world, in which jewels are probably luminous moments to follow like stars so as not to get lost. Life has its golden nuggets, Bonadies seems to suggest, and they deserve to be cultivated, hopefully supported by a happy family like his and by a myriad activities, which keep away the dark side of our relationship with reality and fend off sloth and other unforgiveable sins.
As well as being a famous jeweller and writer of quality, Bonadies is involved in sport and in the cinema as a producer. He also has the role of Honorary Consul of the Republic of Malta in Bari and has been the governor of the Lions Club for Puglia. A full life, which has lead him to know the world and some of its illustrious personalities, both in the show business world and in politics, science, culture and journalism. It's almost natural that his message should be the same as that which resounds in the words of Doctor Keki Sidwa of Bombay, who cites Mother Theresa of Calcutta: "People are often unreasonable, illogical and self-centred / Forgive them anyway! // If you are kind, people may accuse you of selfish, ulterior motives / be kind anyway. // If you succeed, you will win some false friends and some true enemies; / succeed anyway". That "anyway" repeated like a mantra is the same as the title of this book by Bonadies, who yet again manages to communicate with the pessimism of reason above all the optimism of willpower, becoming a sort of vademecum for souls in need of productive moral behaviour.