- FEBRUARY 2018 -
Culture
Rainbow of women
Rosa Di Maggio's precious little book has stories of women in a small village in the south of Italy. Feisty, intense, "real" women
by Anna M. Conserva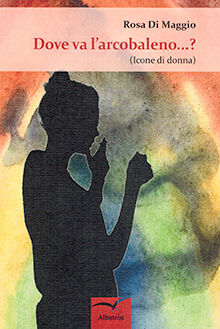 Rosa Di Maggio's little book (Dove va l'arcobaleno…? - Icone di donna, [Where does the rainbow go…? - Female icons] Gruppo Albatros Il Filo, 2015, 52 pp., € 9,50) explores the many facets of the female sensibility with depth and intelligence. Her strong, solid writing opens the doors of our memory and shows us figures of women that appear out of the smoke of a cigarette and that bring life to a village in the closely knit, deceptive South.
The collection of "female icons" opens with a poem that focuses on the female self, on the awareness of the perfect imperfection of women, on being exactly what one is, without definitions and structure ("Me, I'm simply complicated)", like a rainbow of many colors and rhythms that, if you manage to find the end, gives you an immense treasure.
All the figures depicted could be chapters in the life of one woman or memories of the women who gave birth to us. The author's memories trigger the reader's memories, and the impressions blend.
The echo of an old eternal love, now rare, springing from the warmth of the earth, is what we find in Lucia, who accepts the end of her life with the serenity of the peasant soul: "…she bestowed her calm smile on the many little daily events of every neighborhood, of every street. In what was now her forced rest, nothing escaped her powers of observation and the lucid intelligence typical of a healthy farmer". The perfect Rosamaria, crystalized in the role of brilliant manager and consumed by silence and solitude "locked in her silent interior monologue… so many questions and doubts besiege her every night on her return home to a house that is empty and too quiet…". The shadows of Vittoria and Nunzia and the big heart of Miss Maria, the women of the village, of this small world, the ones who have always known you, who watch over you and protect you. And Marta, the wounded girl who gets revenge on her poverty and abandonment through a perfect body, a brilliant mind and a flinty cynicism, paid to give and receive the only affection she knows; Luisa "plays a role she didn't choose but that others chose for her …", imprisoned in the vision of others, forced to conform to become invisible; the redemption of Sabella, who with courage and sensitivity gives those condemned to silence a voice; the complicity and profound affection that strengthens the two fragile worlds of Sadwa and Elvira.
The images flash by and disappear… daughters, wives, mothers, mistresses, saints and sinners; the village changes and grows, the South shines, welcoming and pitiless.