- FEBRUARY 2018 -
Culture
…Once upon a time there was the past
Writing about it to preserve the memory
L'asilo di donna Emma, the latest book by the Salentinian writer Rocco Boccadamo, is a collection of his travel notes and letters to the papers
by Giuliana Coppola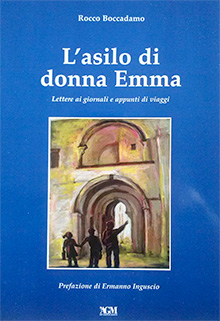 "I don't possess the lure of a gilded pen, nor am I the font of culture and opinion. I'm just a common storyteller… and so I observe and reflect on what happens: obviously, I recite an endless rosary of events great and small…": writes Rocco Boccadamo, in "Spagine della domenica" n. 60 (Cultural periodical of the Associazione Fondo Verri in Lecce). He is naturally talking about himself and it made me think, naturally, that if the Madonna of Marittima reads this odd page – the Madonna, I think, is interested in our affairs, too – she, the Madonna, will think about this story and she won't agree with Rocco; in fact, before him, no storyteller with the lure of a gilded pen had ever noticed her and then described her on the cart, while, in front of the tavern, he enjoyed the sweet smell of wine; because there he was, waiting for maestro Miliu; he for sure had wet his whistle, parking Madonna on the cart. Details are enough at times to earn well-deserved respect, because one can never get tired of reciting this other "endless rosary of events, great and small" that Rocco Boccadamo gives us and that today is called L'asilo di donna Emma or The refuge of donna Emma. "Asilo": who knows if this noun derives from auxilium; I kept thinking about it while, page after page, I met the stories, the characters, the smells of my land and not only there, the hues of the Albanian mountains, the smile of timeless flower buds, Abano and the immersion in mud combined with the immersion in memories. Asilo-auxilium of memory; writing in aid of memory, so that states of mind, sensations, feelings do not vanish, with the footstep of a grandchild out to discover new worlds, hand in hand with his grandfather observing and narrating; to rescue memory, Rocco recites his rosary, never boring because it is not like a constant repetition of hail, father and glory, but a revival of faces, places, traditions and voices and symphonies, those that for a moment belonged to him and that Rocco decides to give to others so they will become the common heritage and their perfume will not fade.
That's why, I think, the Madonna on maestro Miliu's cart, from time to time goes back to reread her story on page 79 of L'asilo di donna Emma. She too, who knows all and can do all, wants for a moment to take her eyes off the evil in the world, to smile for a moment and think about "a carefree night" before returning to the rite of a procession, a hymn, a prayer. It's a rosary of nostalgia and of thoughts and once again it's Rocco's writing that earns him honors in the field, wandering with his mind, heart and soul, along the roads of an existence that never tires us if we are able to perceive it in the minutiae of a detail and discover that gap in the network of mysteries that we are offered. Such a varied existence that it deserves to be told. And now I'm getting lost in the cloud of smoke of the Tuscan cigar stub that Stinu 'u Pativitu "savored, smoked and consumed little by little". I go back to read the story to smell its perfume again. I would have liked to give Stinu, day after day, his serving of the food that he was never able to enjoy, because his small change didn't stretch that far…
Another page, among the many, to read and meditate on and recite like beads of a different rosary, the rosary of life.