- FEBRUARY 2018 -
Culture
From his ancestral Calabria to Roma
Precious memories of a lifetime
In Francesco Leonetti's memoir, Una come un'altra, published by Gangemi, the reconstruction of the experiences of a lifetime with the backdrop of Italy in the last sixty years and more distant family memories
by Sergio D'Amaro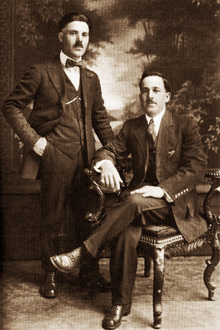 Racine, Wisconsin, USA. About 1914.
Pietro Zaccarelli, the author's maternal
grandfather, sitting beside his cousin
who emigrated to United States.
Photo taken from Una come
un'altra by Francesco Leonetti,
Gangemi Editore
"Sometimes I withdraw to the upper floor of the house, I furtively watch the swallows returning to feed their young in nests under the eaves, once again I see some of the books in my little bookshelf with the old price in lire, I take old sepia colored photos out of drawers… from the open balcony I look at the green mountain opposite where the sun is setting and the evening seems to be quietly returning".
This narrative passage conveys the human depth of Francesco Leonetti, who has just finished a lifetime as a dermatologist at the San Gallicano Hospital in Roma, but is of Calabrian origin. Strongly impressed on his memory is the town of Montalto Uffugo with its ancient Roman ruins, the second hometown for the musician Ruggero Leoncavallo (in whose honor the international opera contest is named). The discussion, confrontation, or perhaps more broadly the structuring of segments of life through this autobiographical book, Una come un'altra (Roma, Gangemi, 2013, pp. 173, € 18), defines his experience which has been a fruitful process of human and professional learning and enrichment. And to think that Leonetti, like many of his generation, left an area of the south that until after the war remained anchored to a rigid peasant farming lifestyle, marked by hard daily labor and by an ancestral culture that had a proverb for every situation and every relationship (as can be seen from the long list in the book).
A life of ordinary scope, one might say. But really, what is ordinary or commonplace in the life of each individual? To begin with, Leonetti as an adolescent had to cope with the severity of a boarding school, at Cerreto Sannita, which however forged his character and prepared him for later trials, anything but easy to deal with. The next step was Rome, but not just any old Rome since the author encountered it at the height of the Sixties, when the clamor of the boom and splendor of Cinecittà that had gone international multiplied the stimuli, opportunities, initiatives, and decisive experiences.
Military service as a medical officer added another facet to his journey, taking Leonetti first to Florence and then to the top of the eastern Alps, to test himself in adventurous rock-climbing maneuvers and to marvel with binoculars at the alpinists climbing Tofane, the three peaks of Lavaredo, the Five Towers and mount Civetta. The mountains digs up obstacles to overcome, peaks to conquer, challenges with which to test oneself at every step.
After decades of a life of calm commitment, Leonetti returns now and then to his old town. It is like finding the path again, like seeing once again the no less mysterious sign of his own destiny. The dermatologist's craft has trained him not to stop on the surface, but to look deeper down for the riches of life. This seems to be his message in filigree, offered with cordiality and discretion to the reader that wants to listen.