- FEBRUARY 2018 -
Bologna
Masserie of Puglia
Journey amidst Beauty
A precious book of photographs by the photographer Adriano Bacchella, from Turin, with a text by Franco Faggiani.
"The masserie are the symbol of Puglia"
by Olimpia Ruffo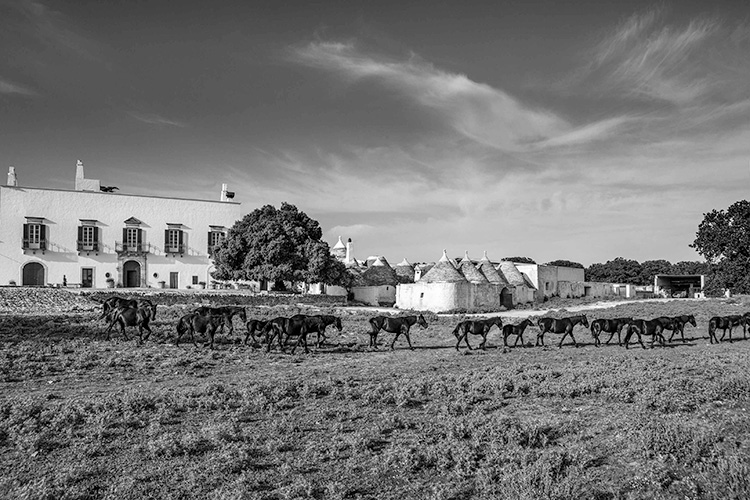 Martina Franca (Taranto). Masseria Tagliente. Photo by Adriano Bacchella
"In the meantime, these manor farms have become a symbol, ambassadors, the concept, as one says today, of Puglia", says Adriano Bacchella from Turin, the author of photographic lifestyle reports in Italian and foreign magazines like AD, Elle, Case&Country, Ville & Casali and of some forty photography books. His latest work, Masserie 2 (AdArte publishing), is entirely devoted to these ancient Apulian buildings, more and more of which are finding a new lease of life. Underlying this fortunately unstoppable process of restoration there is the rediscovery of the countryside and locally sourced food, as well as the wisdom of the past which leads us to seek rhythms and lifestyles that are livable, in a context that returns to its ties with places, in symbiosis with nature.
Three hundred superb color photos and evocative black and white images, accompanied by a careful, enjoyable text – in Italian and English – by the Milanese journalist Franco Faggiani, suggest that the eyes of "outsiders" sometimes see details, poetry and beauty that are not as evident to those who live in the place and are too used to the enchanting sights of Puglia.
"Visiting Italian villages and the countryside has brought with it many plusses – says Faggiani – for example, meeting normal people who do great things, such as silently and laboriously keeping residences and buildings steeped in history going, which time and bureaucracy would have destroyed, and preserving the countryside by living and working there".
The text tells some of the history of the buildings the book is dedicated to, and the life of the people that made them live again. The geographical areas covered go from Gargano to Salento passing through the Taranto, Bari and Brindisi areas. As well as the outside of the buildings, other fascinating details are presented: simple but impeccable furnishings, rustic tables lavishly laid, cakes that seem to have just come out of the oven. The graphics are simple and elegant, the paper magnificent, opaque and an absolute pleasure to touch (things the internet will never be able to give us…).
The preface is written by an Apulian par excellence, Renzo Arbore, who expresses all his love for the masserie, mentioning youthful memories and describing "his" Tavoliere, when the harvest was over "like a savannah caressed by African wind".
Turning the pages of the book is a real journey through beauty. The landscape, architecture and atmosphere irresistibly call us to travel to a destination: the masserie of Puglia, enchanting places where time seems to have stopped.