- FEBRUARY 2018 -
Bologna
Quo Vado?
When the southern redneck turns politically correct
The film by the Apulian Checco Zalone is beating all the records at the box-office.
The story of the average Italian, male chauvinist, ignorant and cocksure, who turns into a responsible citizen (but then has second thoughts…), manages to make everybody laugh.
"Rice, potato and krill" to reconcile the deep South and the deep North
by Giovanni De Benedictis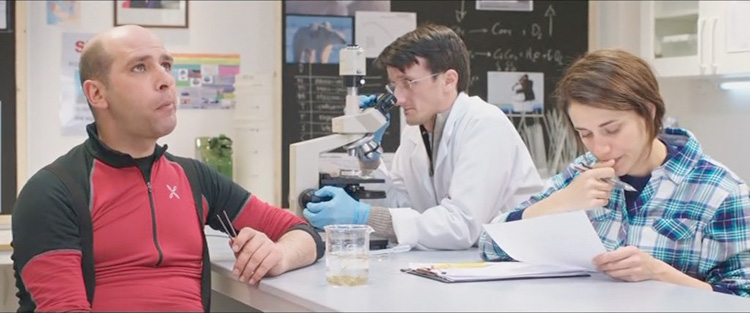 Scene from Quo Vado?, Checco Zalone's latest film, a box-office hit
Ah, a safe job. A chimera for many people, nowadays. One of the last to enjoy it – undeservedly – is Checco Zalone (Luca Medici), who defends his job like a limpet stuck to a rock. It's a pity he's undermined by the elimination of the Provinces. For him, in charge of fishing and hunting permits and constantly receiving hampers and all kinds of gifts in thanks, it's the end: he isn't an invalid, he isn't married, he hasn't got the slightest reason to ensure he stays where he is, in Conversano (about thirty kilometers from Bari). His only option is to give in and sign his resignation with a generous pay-out. But, guided by senator Nicola Bitetto (Lino Banfi) – the patron saint who gave him and a couple of his relatives their job – Checco doesn't weaken: he is transferred first to various localities in Italy, then to the North Pole, amidst the fiords of Norway. The task he's given – to guarantee the safety of Valeria (Eleonora Giovanardi), an Italian researcher of the National Research Council – at first discourages him, but then the young woman's pretty face wins him over.
Produced by Pietro Valsecchi' Taodue (read Mediaset) at a cost of 10 million euros and distributed in 1.300 cinemas (a number unheard of even at the Hollywood studios), the fourth feature film by the Medici-Nunziante pair is not all that different than the three that came before it. Basic in its narrative style, it still has the protagonist as narrator and – this time – a frame. What is new is that Zalone's character – the average mediocre Italian, our version of Homer Simpson – seems to undergo a development. In the first forty minutes of the film, the character, if he does manage to get a laugh, gets a vulgar one. Part of a universe where the 'cultural' landmarks are C'è posta per te (or Love's Theme by Barry White) and TV quiz shows, where Margherita Hack rhymes with "fuck", Checco exhibits all his male chauvinist, moronic and opinionated spirit: he treats women like servants (he tells his girlfriend she is not very "retro-active") and other people with arrogance. He even collects semen from a polar bear.
His meeting with the researcher however pushes him to improve: initially he concentrates on reinventing Apulian dishes (panzerotti for Muslims, Buddhists and atheists; "rice potatoes and krill"), then he realizes that life as a responsible citizen is preferable to life as a 'wise-guy'. He therefore ends up queuing, waiting for the green light, picking up litter. But what is the theory of the screenplay signed by the duo from Bari? That living a considerate civilized life is a game that the average Italian can't play because it is incompatible with his nature. For Checco it is enough to see Al Bano and Romina on the stage at Sanremo on TV for him to feel homesick and go back to his insuppressible vices, to show him for what he really is. With this ploy of running with the hare and hunting with the hounds, Zalone is able to win over all kinds of audiences, getting laughs from those who feel like him and from those who think they're better than him. Obviously there is also an ending that saves the baby and the bathwater, along with a presumed redemption. The only really good thing, overshadowed by evil mankind, is the beauty of the landscape, whether it is the Val di Susa, Puglia or Calabria (where Checco allows toxic waste to be dumped). A great beauty buried (once again) by earnings that are as stratospheric as they are self-absolving.