- FEBRUARY 2018 -
Bologna
An excursion into the Salentine dialect … Mai pe iabbu
The analysis of some expressions in the dialect of Salento revealing its stereotypes, beliefs and prejudices, with comments by prominent figures in Piero Manni's readable collection, Mai pe iabbu. I vocaboli e le espressioni intraducibili del Salento ('Mai pe iabbu'. Salento's untranslatable words and expressions)
by Alberto Sobrero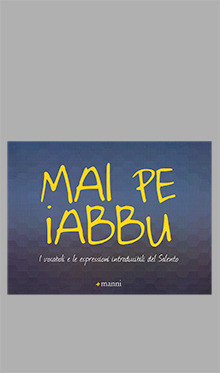 For once, Piero Manni forgets he's a publisher and offers us an unusual, intriguing collection of "untranslatable words and expressions from Salento". The usual nostalgic collection of dialect words that are no longer used, some might say. No: this is a purely cultural endeavor, and the intent is linguistic and anthropological rather than predictably nostalgic.
The 41 entries are enough to let us reconstruct, at least in part, "the wealth, the opulence of a language shaped, developed and adapted to the territory and the culture tied to it, containing adequate information and knowledge for us to relate to the territory and the community" (to quote from the introduction).
These are, therefore, 'untranslatable' words and concepts. Why? Obviously because they are specific to a territory and a culture that named every object that bit by bit came into its possession – we are well informed about these words and their history – but specific also to feelings, attitudes, particular sensations, viewpoints on analyzing reality, specific customs, stereotypes, beliefs and prejudices. On these aspects, our knowledge is poor and sketchy (it is easier to study the different forms of an object than the names given to a state of mind), due also to a strictly linguistic and anthropological factor. Translating means transferring from one language system into another, but a great deal is inevitably lost in translation, especially when the two language systems are the product of very different histories and cultures. This is true of Salentinian, historically and anthropologically far removed from Tuscan-Italian. So it happens that for many dialect words and expressions there cannot be a word-for-word translation: to convey the meaning of a word, one has to use paraphrase or circumlocution but also examples of different uses in different contexts, and illustrate how the meanings differ from the basic sense. Otherwise, a good deal of the meaning – often the most typical part – is lost.
Piero Manni does just this, giving a detailed definition of every item, often with a careful etymology, accompanied by various examples of different contexts of use (in a sort of column entitled 'how to use it') and, for 13 entries, by short 'comments by prominent figures'.
In this slim but very enjoyable volume, there is an alphabetical list of:
- verbs whose meaning has been expanded, starting from actions and situations of practical Salentine culture and extending to states of mind: for instance ncutugnare, shifting from 'repeatedly shake' – with an etymological reference to the quince (cotogna) – to 'feel anger without being able to vent it', 'to become sad'; bbampare: from 'burn' to 'blush';
- nouns referring to customs deeply rooted in the territory: crianza 'the last serving of a shared dish, which nobody takes due to a form of courtesy', sobbrataula 'the last course of a meal: raw vegetables, lupins, almonds, sunflower seeds', actually a pretext for indulging in "a conversation that, with changes in intensity and tone, becomes a story, summoning up far-off, well-known figures, and piecing together family memories" (as Antonio Prete points out), squariare, which means not only 'muck around' but also "let time wash over you, let yourself go in tall tales, digressions, flights of fancy, going off on tangents, in the charm of idleness" (Antonio Errico);
- circumlocutions expressing typical attitudes, precious fragments of a philosophy of life: fazza Ddiu (fatalism), menamé (exhortation), mai pe iabbu (forestalling and covering one's back), nu tte sia pe cumandu (diplomatic understatement), pe facce llavata (appearance and hypocrisy).
Following this line one might be able to reconstruct 'the shared feeling' of the culture of Salento, or at least of what was once the culture of Salento. A nice prospect.
The fastidious researcher might complain about what's missing and find reasons to be unsatisfied (the sources and expressions and their localization are never stated; the 'comments by prominent figures' are sometimes fascinating and acute, and sometimes not: for instance it is a shame that for the expression that gives the book its title, the final comment is the shortest). However, here I prefer to underline how enjoyable the book is and how many stimulating points it presents.
It is not only Salentine speakers who will find it involving, interesting and thought-provoking, but also linguists and anthropologists.
Mai pe iabbu. I vocaboli e le espressioni intraducibili del Salento (ed. Piero Manni), Manni, 2015, 96 pp. 12 euro