- FEBRUARY 2018 -
Bologna
Once upon a time there was the padre-padrone
In the latest novel by writer, entrepreneur and film producer, Matteo Bonadies, the clash between the family as it used to be and that of today.
Expert investigator into the family set-up, the subject of many of his works, the author analyzes what remains of the old meaning of the expression Pater Familias
by Sergio D'Amaro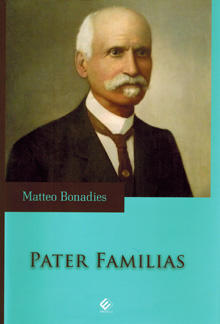 The cover of the book
by Matteo Bonadies
At the beginning of the 19th century Hegel pointed out the centrality of the family within the modern bourgeois-capitalistic world, highlighting the complicated internal relationships and the fall-out at the social level.
Matteo Bonadies, an unusual and complex blend of writer and entrepreneur in the hard-working town of Barletta, expert investigator into the family set-up, the subject of many works, analyzes what remains of the old meaning of an expression, and more specifically of a function, which by now has been wiped out by the explosive transformations that have taken place over the last half century, in Pater Familias, published by (Milella ed., pp. 142, € 9). If we wanted to be cruel, we could say straightaway that there is nothing left, not even the leftover acknowledgement of an active paternity. But luckily this is not the case, although the characters that populate Bonadies' novel constantly insist on underlining the differences that have become abysses between the outline sketched by the good German philosopher and today's fibrillations of an individual overwhelmed by paradigms regulated by the speed of computers.
The author opts for the generational thread, starting from the head of the family, Romoaldo de Camelis and accompanying children, grandchildren and great-grandchildren through the dangerous 20th century, seeking something that might conserve the identity of he who held the rudder of the family and tested the waters to stave off risks and accidents with enviable rigour. The pater familias was the undisputed pivot of the situation, the model for the other males to imitate, the man of the house (almost the man of destiny), the law-giver for the female members. Shall we overlook the nonsense of a certain authoritarianism, the real oppression perpetrated inside the protective shell of those four walls?
Bonadies certainly does not seem to ignore all this and perhaps has in mind what respected essayists and writers like Maurizio Quilici or Alice Ceresa have managed to reveal about the present state of things. But he seems more concerned with something else, beyond the comparisons which would seem a bit out-of-date and pathetic, and that is the disorientation and internal laceration of the paternal figure exposed to the post-modern epoch. At bottom, the novel is looking to aim a clearer light at phenomena that have come about after so many years of conflict and transformations and have defined a paternal profile which is nowadays strongly committed to new skills and responsibilities. Bonadies reveals a problem, investigates its ins and outs, measures the gap between yesterday and today and proposes the weapon of uneasiness. The final question might be: what really survives of the ancient pater familias and how is it possible to accept, rationally and faithfully (without any post-Hegelian drama), the presence of a father who has become a bit maternal?