- FEBRUARY 2018 -
Bologna
On the Savannah lagoons
…to heal
Whispering tides, the surprising narrative debut by journalist Guido Mattioni.
From the success of the ebook (published by the American Smashwords house) to the book (in English and Italian) the story of an Italian in America seeking an "elsewhere" to get over a great sorrow
by Sergio D'Amaro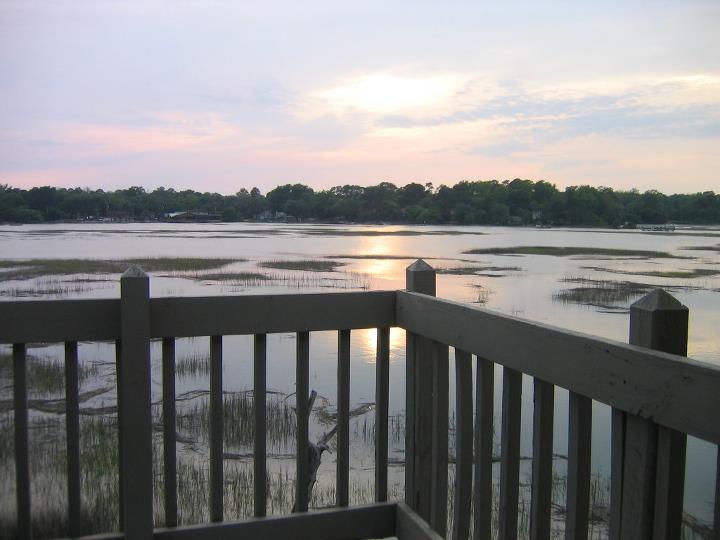 Savannah (Georgia). From Vicki's terrace
Going to Georgia, in the old southern state, far from the most glowing symbols of progress, from the rat race for success and money. Getting away from the places that sanctioned the construction of an experience and the path of a destiny. It happens when reality has slapped its cruelty in your face and has brought all your illusions of a normal, safe happiness crashing to the ground. So your conscious self needs to stop, to dislocate and to look on the other self that has gone wandering around the world. All this with well-honed analytical skills and a surprising dose of feelings which have come back, synergistically, and have been reactivated.
The case of Guido Mattioni is emblematic, for its literary profile and for its editorial issues, but also because the elsewhere chosen for getting out of oneself is not Italy, but America. This brings to mind the 30s, when the American myth was used not only as an ideological alibi but also as a re-virgination of a cultural and psychological nature. America was the Beginning, the Origin, Nature and Freedom.
Mattioni, originally from Udine but later resident of Milan, a life spent working at Montanelli's "Giornale" from the bottom up, ended up planting his flag in remote Savannah, a town crossed by the Moon River (the one in the unforgettable film Breakfast at Tiffany's) and surrounded by an intricate system of lagoons at a stone's throw from the ocean. He couldn't have chosen a more emblematic town for getting over what could be called a real 'existential earthquake' – the author's definition.
The cause of this 'fall' and the long and tortuous climb out of it is explained by Guido Mattioni in an exquisite autographical form in his debut novel, Whispering tides (Ascoltavo le maree is the Italian title). It's a work, as mentioned above, that has had an incredible publishing destiny, because, after the manuscript was refused by several publishers, it was translated into English and then published under the title Whispering Tides as an ebook by the Californian Smashwords publishing house. Its readership grew to such a pitch that it became a meaningful democratic success both in the Global eBook Awards and in the USA Best Book Awards; a feat that convinced the newborn publishing company, Ink, part of Gruppo Media & Co., belonging to Francesco Bogliari (former executive at Scheiwiller, Sole 24 Ore books and at Sperling & Kupfer), to inaugurate the series of novels with an operation already promoted with three editions in April 2013 (pp. 213, € 14).
Mattioni's novel thoroughly deserved it. We can say this because an autobiographical novel is almost never received charitably, especially these days in which success is equally divided between genre narrative and social protest narrative. However, this unfashionable work by Mattioni seems to carry on the line of literature native to Friuli Venezia Giulia (from Svevo to Magris by way of Saba, to make that a bit clearer), suggesting an elsewhere that opens up to more audacious horizons in order to underline a more distinct break, a more dramatic existential crisis.
Mattioni's alter ego, Alberto Landi, is a man who, with the aid of maps drawn by Lord Oglethorpe, an 18th century colonizer of Georgia, makes landfall on the opposite Atlantic shore after abandoning his previous life in Milan, which had become grey, mechanical and alienating.
The protagonist came to this territory to work through his grief for the loss of his wife Nina. From this moment on, every path, every road, every square, every view, every encounter with new people, animals or things, will become a stepping-stone on the way to distance himself from the past and draw nearer to his returning vitality, his return to the human race. And gradually the increasing popularity and authenticity of Cindy's Cafè with its cooks and its regulars, the disarming 'philosophical' ingenuity of the former longshoreman Leviticus Taylor, the mysterious ability to analyze American nature displayed by the ex-taxi driver and bon viveur Morty, will come together to compose a mosaic of an elsewhere that can settle the debts with the past and enable him to enjoy to the full a space in which to carve out a new phase of his life.
Alberto's journey is the journey of someone who can get over his suffering and pain, sicknesses that are often more devastating than physical ones. This novel shows that autobiographical writing represents real psychological self-help therapy, because it is a factor in helping the subject to gather up his/her own narrative structure, and so on one hand to explain to himself his present way of being, and on the other to modify it with the re-visitation of memories and projects. That is the not secondary reason for Mattioni's success with this novel, since it unites the remarkable ideas with a skilful narrative that grabs the readers and pleasantly involves us in a profoundly human destiny, so often recounted by writers who have been emigrants in the past, and are now migrants. To whom, broadly speaking, Mattioni is related, despite evident differences in the narrative motivation, because of his search for a new space and a new destiny in an 'other' geographical dimension; the chosen destination is to be exotic and unknown so as to celebrate a turning-point in his own life (not New York or Buenos Aires, but a town in the southern States).