- FEBRUARY 2018 -
Bologna
The Fulbright Project?
An extraordinary opportunity for a cultural exchange

Consul James Rodriguez, in charge of the Public Affairs Office of the U.S. Consulate General in Naples, speaks to us after his intervention at the American Day held by Liceo Scientifico De Giorgi in Lecce
by Flavia Pankiewicz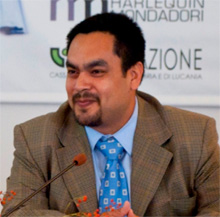 Consul James Rodriguez
The "American Day", a day wholly dedicated to American culture and cultural exchanges with Italy, organizes by the Liceo Scientifico Cosimo De Giorgi in Lecce at the beginning of this year, was a great success. English Teaching Assistants, or ETAs, winners of "Fulbright" scholarships, who are spending a year in Italy, came from numerous Italian cities like Florence, Rome, Cosenza, Gubbio, Naples and even Norway, to take part.
Those present were: Lindsay Paiva, Andrea Leone, Elyse McLaughlin, Tiffanie Bui, Nicholas Crown, David D'Antonio and Mattea Cumoletti, who is working as an English Teaching Assistant at Liceo De Giorgi in Lecce.
Their brief but brilliant contributions dealt with a wide range of themes: from their home towns to the history of jazz, from their favorite American football teams to problems of teaching methodology.
The meeting was attended by the School Principal, Giovanna Caretto, Patrizia Sanguedolce, the teacher who organized the event, and also Consul James Rodriguez, Culture and Press Relations of the Consulate General of the U.S. in Naples. Born in Washington DC, his family originally comes from El Salvador. He is in Naples with his wife and three daughters and is highly appreciative of Italian culture and cooking.
We asked him some questions about the "Fulbright Project".
Could you briefly explain how the "Fulbright Program" was born and how it is structured?
The "Fulbright Program" began after World War II in an effort to promote cross-cultural communication. Now, it is a very prestigious program that many world leaders have participated in. A lesser known aspect of the program is the ETA – English Teaching Assistant. The ETA program selects young American graduates to work abroad in a community teaching English at secondary schools. Students at the school have an opportunity to learn better English skills while the ETAs gains cultural insight which they will share with others when they arrive home. We try to send ETAs all over Italy to work as "little ambassadors."
This year how many winners are there in Italy, in which cities do they work and how was the destination "Italy" assigned to them?
In Italy, we have six ETAs stationed in Gubbio, Lecce, Napoli, Palermo, Roma, Cosenza. They give their preference on the geographical area, and then according to the selected schools we match them. ETAs are a hot commodity and we are happy to provide them.
Which criteria were used to select the schools?
We work in conjunction with the Ministry of Education to select schools that have a track record of academic excellence and good students. The schools need to be able to benefit from having a native English speaker working there. In addition, we look for schools that will be receptive to hosting an ETA and providing them with any necessary support.
You are about to end your diplomatic tour here in Italy. What's your review of this experience?
Working in Italy has been a long-time dream of mine. In fact, I turned down the same position – Public Affairs Officer – in Melbourne, Australia to work here. Italy is one of the most sought after countries for people in the diplomatic service. As far as Southern Italy in particular, I just love the culture, the people and the food. There are so many opportunities to see historical sights and landmarks. It has been amazing! I have met some very impressive people who work hard to improve Southern Italy, economically speaking. Southern Italy, in particular, is really inspiring. While I've been here, I hope that I have improved my Italian. Overall I had a great experience. I will leave Italy with nothing but good memories and a hope to return in the near future.
What were your impressions during your visit in Lecce?
Lecce is a beautiful little city. I completely understand why it is called "Southern little Florence." Salento in general is wonderful and the people in Lecce are so lucky that every morning they can choose which sea to go to. Plus, the city is surrounded by beautiful olive trees. I had a chance to visit an olive farm while I was there and the olive oil might just be the best in Italy, if not the world. Salento is amazing and I hope to make it back soon.