- FEBRUARY 2018 -
People
Nine decades for Mario Fratti
The volcanic playwright from L'Aquila, resident of New York since the early Sixties, turns 90 He has over 90 works to his name, including the pluri-award-winning musical, Nine, played by Raul Julia in 1982 and by Antonio Banderas in 2003
by Maria Lisella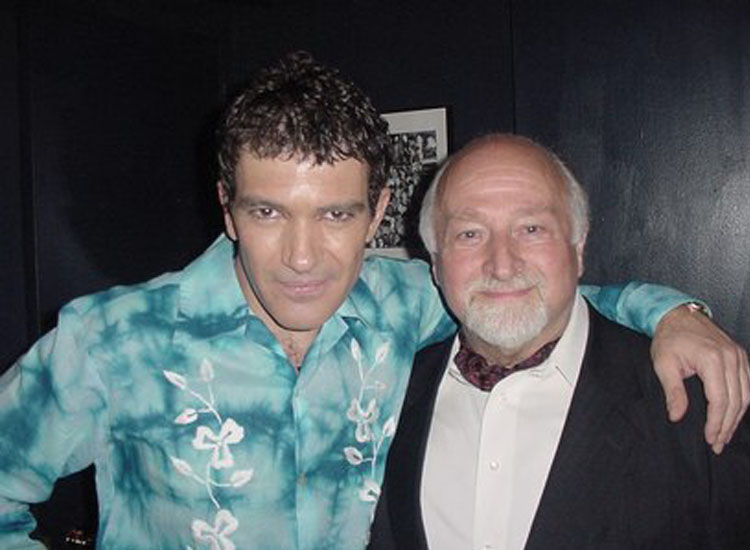 New York. Mario Fratti (right) in 2003, with Antonio Banderas, leading actor that year in his musical, Nine, on Broadway
This has been a big year for 90-year-old Abruzzese-born Mario Fratti – from a surprise party in May, at the Cherry Lane Theater in New York City, to a slew of star-studded celebrations on both sides of the Atlantic.
Fratti, forte e gentile Abruzzese that he is, has written more than 90 plays, won dozens of awards including five Tonys for one musical, and he sticks with a solid work routine everyday of his life. Professor emeritus of Italian Literature at Hunter College (City University of New York), not only is he an internationally acclaimed playwright but also a drama critic for nine European newspapers. Waking up in the same apartment he has lived in since 1963, he seats himself in a living room surrounded by memorabilia that represents more than a half century's life in the theater. The walls are laden with posters from one show or another dating back to the 60s, shelves are crammed with awards shoulder to shoulder with mementos, headshots of beautiful actors, autographed studio shots and photos of Fratti receiving awards or joining theater casts for a memorable shot at a premiere or other.
After reading The New York Times, he shifts to the roundtable just outside his kitchen that straddles the living room, and by 1PM, he is hand writing; he'll take a 30-minute nap to refresh himself before attending a theater performance nearly every single night of the week. His energy is legend and he exudes optimism, confidence and encouragement not to mention charm.
Among his illustrious neighbors were Arthur Miller, Tennessee Williams, who he could see from the adjacent window, and Tommy Tune.
No passive audience member, he is the drama critic to half a dozen international publications writing reviews weekly, thus rendering exposure to actors, playwrights and theaters, both small and large.
Best known for his musical Nine (inspired by Fellini's famous film, 8½, which in its original production in 1982 won the O'Neill Award, the Richard Rodgers Award, two Outer Critics Circle Awards, eight Drama Desk Awards, five Tony Awards and and in 2003, in the version played by Antonio Banderas, was a recipient of the Otto Award for Political Theater) Fratti is true to himself. Heavily influenced by his socialist father who was also a union man in Italy, Fratti's work reflects a class consciousness and a passion for social justice. Among the literary figures who have also influenced him are Albee, Brecht, Miller, Williams and Paddy Chayefsky.
Nine has also had a movie version, in 2009, directed by Rob Marshall, with a star-studded cast: Daniel Day-Lewis, Penélope Cruz, Nicole Kidman, Marion Cotillard, Judi Dench, Kate Hudson and even Sophia Loren.
How did Nine happen?
It became an adaptation of the film 8½ that evolved into the Broadway musical, Nine. It took years, but the short story is that once it was produced at a theater in Connecticut, my friend Katherine Hepburn came on opening night and she wrote a letter to Fellini, which helped the process a lot. I teamed up with Maury Yetson, who also did the lyrics.
Note: directed by Tommy Tune and choreographed by Thommie Walsh, Nine finally opened on Broadway on May 9, 1982, at the 46th Street Theatre, and ran for 729 performances, starring Raul Julia.
What is the key to success as a playwright?
Persistence. "Never give up is what I tell my students." Arthur Miller once said that writing a play is like being pregnant (not that either of us knew what that felt like) as it could be inside you for many years until you have a good ending… and I follow his advice to this day.
Your titles tend to be one word, is that too a strategy?
Yes, I tell students to keep the title to one word, and make that the theme.
A short sample illustrates his rule: Suicide, The Cage, The Return, The Academy, Mafia and The Bridge and of course, Nine.
Your favorite subjects to write about?
Live history from Eleanor Duse to Nixon and my perspective remains optimistic.
Why plays and also poetry?
Dialogue comes easily to me, poetry can often write itself; I prefer to write in English as I use a simpler vocabulary whereas writing in Italian I might be tempted to overwrite, it is just the nature of the languages.
What is next for Mario Fratti?
More theater, more plays, more every day… we are full of trouble but I am optimistic, I want to believe that it will get better, the purpose of life is to help your fellow man and I do it in my small world, I give my plays away for free – I am retired, I have financial freedom to do this.
The Mario Fratti Award is won each year by the author of an original play in Italian or Italian dialect, never-before produced or published. The winning playwright will be awarded a translation of their winning play into English, as well as its production in the form of a reading by professional actors in New York as part of "In Scena! Italian Theater Festival".