- FEBRUARY 2018 -
People
Monda's world
The friend of many celebrities, the reigning master of cultural encounters between Italy and America, the teacher, writer and journalist Antonio Monda opens up about himself in an interview with Bridge.
"What I like about Italy is the elegance and the relaxed attitude, about America it's the pragmatism and energy".
"Without my wife I wouldn't have achieved anything"
by Flavia Pankiewicz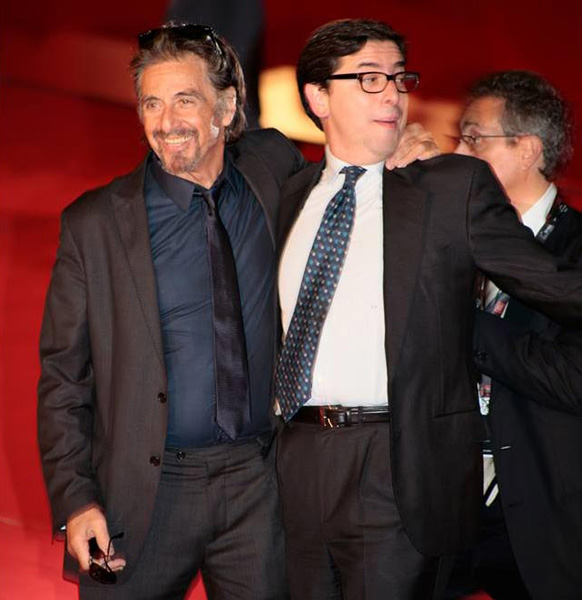 Rome, "International Film Festival" 2008. Al Pacino, one of the legends of world cinema, hugs Antonio Monda
Movie stars and internationally famous writers throng his home creating what The New York Times, in a recent lengthy article about him, called the liveliest and possibly the last remaining cultural salon in New York. In the Italian press he has been described as one of the ten most influential Italians in America. But Antonio Monda, writer, journalist, professor of cinema at New York University, organizer of great cultural events, with occasional film appearances in cameo roles, does not seem particularly excited about his fame. He loves simplicity, nearly always dresses casually and treats famous friends and ordinary people with the same affable warmth. Born into a family with Calabrian origins and moving nearly twenty years ago to the United States, to New York, he has succeeded in building up a solid career based on his effort and professionalism, helped by the Winston Churchill motto in his NYU office: "Never, never, never quit". His splendid wife, the Jamaican Jacqueline Greaves, supports him in everything he does; her recipes, a fusion of the Italian tradition with touches of Jamaica (soon to come out in a book) have played their part in the success of lunches and dinners in their home. Three brilliant children endowed with a healthy sense of humor towards their father's success, the 21-year-old twins Caterina and Marilù and Ignazio, seventeen, complete the portrait of a fully realized American (and Italian) dream.
The journalist Oscar Iarussi has defined Monda "a reference point for opportunities of exchange between Italian culture and the Anglo-Saxon world (not just the USA), the heir to a crucial role that over the years has been played by Vittorini, Cecchi, Soldati, Pivano and Furio Colombo". The extra arrow to his bow is his ability to make every cultural encounter a real event. He's capable of spreading culture, of making it attractive. His "Conversations" on Capri like those in New York, or his interviews during the Festival of Italian Cinema at the Lincoln Center in New York always attract a big audience of aficionados.
A few months ago, in the most prestigious paper in the world you were the subject of a long article, which had great resonance in Italy. Celebrities from the movies and the world of culture pack your salon. What's the secret of your success?
I have no secrets, all I know is that I was brought up to share ideas and to be hospitable. In this respect I think I'm a real southerner.
What's the role of your wife Jacquie in all this? And how do your children respond to your fame?
Jacquie is the main one behind it all: without her I wouldn't have achieved anything. The kids have fun teasing us.
University teacher, writer, journalist, organizer of cultural events. Which of these roles do you identify with most?
All these activities are similar: I try to communicate ideas, and I do it through books, films, lectures, exhibitions and festivals.
Your latest book, Nella città nuda (Rizzoli), originated in the New York subway, observing people and taking photos…
It started almost by chance. I spend a lot of time on the subway. Then a lot of friends encouraged me to arrange an exhibition of the photographs. That first suggestion led to the idea of writing a book and then I got the idea of 50 short stories. The model is the Spoon River Anthology.
You've been in America for twenty years, you didn't arrive with a cardboard suitcase, like the last wave of poor immigrants in the post-war period, but all the same you've come a long way. Was being Italian helpful or did it make things harder for you?
Sure, I made sacrifices, but it was nothing compared to the poor immigrants that arrived decades before me. In some respects I was a luxury emigrant. Being Italian was an advantage: there is – quite rightly – appreciation of our great history. But obviously the way you present yourself is fundamental.
How is Italy considered today in the States? Are there still stereotypes? How do Americans see our political instability, the economic crisis, our thousands of internal issues?
Unfortunately Italy is largely ignored, except for scandalous episodes like the Costa Concordia. Stereotypes exist but they're dying out, but at the same time there's growing interest in Pope Francis.
Of all your "close encounters" with the world of cinema and culture is there one person or one episode that has particularly struck you?
The lucid humor of a pessimist like Philip Roth and the curiosity of Don DeLillo. In the cinema: the energy of Al Pacino and the intelligence of Meryl Streep.
What do you like and what don't you like about the Italian and the American lifestyles?
Merits are always the other side of defects. What I like about Italy is the elegance and the relaxed attitude and I'm against the laxity and carelessness. About America I love the pragmatism and the energy, but I'm against the inflexibility and the remorselessness.
What are the three things about New York that you love most?
I love what realtors call "the golden triangle": the part of the Upper East Side between Sixtieth and Eightieth, enclosed between Park and Lexington. When I go there I feel like I'm at the center of the world. I love Central Park, the great curve on the FDR around 20th street and arriving in Manhattan from the Queensboro bridge: it's the most breathtaking city view in the world.
Your upcoming projects …
In March Mondadori will bring out a novel called La casa sulla roccia. It's part of a big project that began with America does not exist, which envisages about ten novels on the American century, one for every decade. Meanwhile, I'm trying to transform "Le Conversazioni" into a global festival: after Capri and New York, from 2014, we're also going to launch it in Rome, and we're working on other places for 2015.