- FEBRUARY 2018 -
Literature
The Italian spirit behind Wally Lamb's bestsellers
An interview with the author, of Italian, German and British origin, whose novels have repeatedly topped The New York Times best-selling list.
The Italian background has an essential role in his work, often ignored by the American mainstream media
by Maria Lisella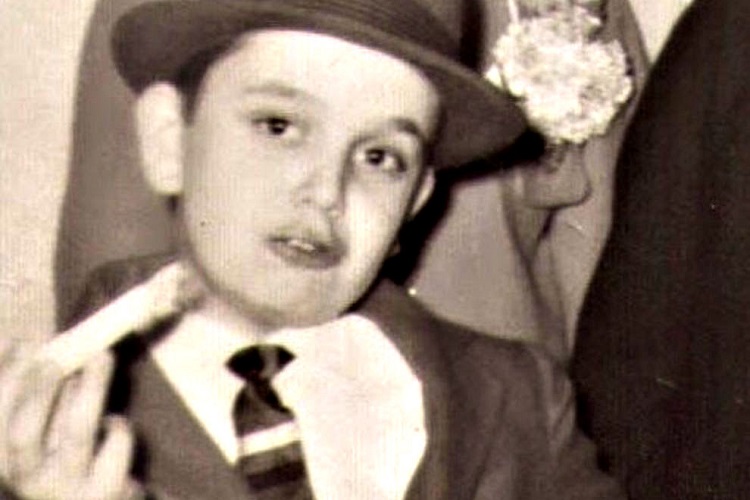 A young Wally Lamb. Photo courtesy of Lamb family
      Wally Lamb is the author of five best-selling novels: She's Come Undone and I Know This Much Is True were both number-one New York Times bestsellers, New York Times Notable Books of the Year, and featured titles of Oprah's Book Club. I Know This Much Is True was a Book of the Month Club main selection and the June 1999 featured selection of the Bertelsman Book Club, the national book club of Germany. Between them, She's Come Undone and I Know This Much Is True have been translated into 18 languages. His fifth novel is We Are Water. 
Lamb's recently-released sixth work of fiction, I'll Take You There, hit bookstores in hardcover and cyberspace as a Meta-book featuring text, audio, music, and film. Lamb has also edited Couldn't Keep It to Myself and I'll Fly Away, two volumes of essays from students in his writing workshop at York Correctional Institution, a women's prison in Connecticut, where he has been a volunteer facilitator for the past sixteen years. 
      Full disclosure: I met Wally Lamb on Facebook. Because I curate the Italian American Writers Association's (IAWA) literary readings, I am always on the prowl to "out" an Italian or Italian American writer and lure him or her to feature at our 26-year-old literary reading series in Greenwich Village. Nearly three years later, I managed to do just that. I was so over- the-moon about him and his work, I wanted to tell more people about this multi-dimensional author we can call "our own."
      Tell us about your Italian background, is Lamb your real name?
      Lamb is my real name. My dad was of German and British descent but always referred to his heritage as "Swamp Yankee".
My maternal nonno was from Calabria and my nonna was from Sicily. My mom was one of 11 children and only one brother moved away from Norwich. The extended family gathered every Saturday for supper at nonna's. She was a widow when I was growing up, but arrived in Brooklyn at the age of 13 and lived with her older brothers.  
My grandfather who was a calzolaio in Connecticut was the "unofficial" mayor of the Southern Italians in Norwich. People claimed that pregnant women would go to his shop and walk up and down the sidewalk so that he could predict the sex of their babies – they say he was right about half the time. I guess you could say that we were our own Italian enclave. In 2014, I was named Norwich's Italian-American of the Year. 
      Your Italian heritage surfaces in several of your novels, doesn't it?
      In I Know This Much Is True, there is a story within a story about the main character's Italian immigrant grandfather, told in the old man's voice. In We Are Water, the protagonist has an Italian mother and a Chinese father. That novel also features a character who I named, tongue-in-cheek, Gualtiero Agnello (Walter Lamb.) Wishin' and Hopin' and my most recently released novel, I'll Take You There both focus on the Funicello family. They're cousins of Annette Funicello and for those who don't know her, she was an American actress and singer who began her career as a child performer and rose to prominence as one of the most popular "Mouseketeers" on Disney's original TV show, the Mickey Mouse Club.
      How did you start writing mammoth novels?
     Shortly after Gay Talese published his opus Unto the Sons, he wrote a NY Times Book Review essay titled, "Where Are the Italian-American Novelists?" (March 14, 1993) I took that as a challenge at the time and still do. 
My first novel started off as a short story, but it kept growing and my teacher suggested it might be a novel. I followed her advice and kept going, it turned into She's Come Undone. 
      Some authors create a graph or map to plan out a plot, how about you?
     I wish I did that, it might be easier to know where I am going. I write in chunks, one bit at a time and possibly string it altogether, shifting to fit. I am a plodder, I make an appointment with my computer everyday and I have no idea where I am going. I need to get lost and sometimes my characters lead me to places I don't expect to go. For instance, in I'll Take You There, I never expected Felix to be confronted by Hollywood's ghosts. I also become my characters and once I meet them I feel I have to take care of them until I reach the end.
      Do you read much?
      I read the New Yorker from cover to cover but, I won't read novels while writing novels; I'am more likely to turn on the soaps and watch As the World Turns or something else on TV.
      Do your travel plans include visiting Italy?
      Definitely, just a question of when not if.