- FEBRUARY 2018 -
Literature
Tusiani,
poetry as a song of victory over fragility
In Ad Maiorem Baculi Gloriam, the collection of Latin lyrics chosen and translated by Emilio Bandiera, dynamic new poems from the American-Apulian poet now in his nineties.
An undaunted challenge to the darts of time and the relentless march of the seasons
by Sergio D'Amaro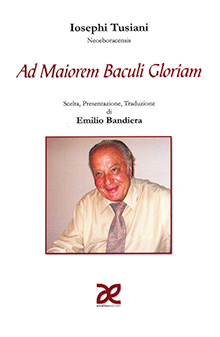 Now past ninety, an adventure within the human adventure, Joseph Tusiani seems to have intensified his pact with life. His work, in the languages that he has always orchestrated, has started to flow like a river in flood, supporting each instant, each tiny vision, each miniscule shift in attention.
He now observes the world leaning on his stick but his real, constant support is poetry, this effort of imagination and nerves that fuses reality and memory, desire and wisdom, insight and surprise. True, there was an ictus, a sudden stroke unleashed in his body, but his tongue, the tip of a metaphorical thrust, has made it part of a fuller word, invictus. In this semantic game Tusiani's renewed muse seizes the victory over fragility, and places an intangible bet on feelings, desires and willpower.
If we read the twelve Latin lyrics collected and translated by Emilio Bandiera in Ad Maiorem Baculi Gloriam (Amaltea ed., pp. 22), we understand this undaunted challenge to the arrows of time, the decisions of destiny and the relentlessness of the seasons. "What new life has redeemed me?", wonders Tusiani, what skilled hand has defeated illness and transformed it into a resource, into the joy of seizing the moment, into a blissful harmony with things, trees and skies? A moral lesson, a Spinozian or even Franciscan acceptance of the transitory handicap that increases his yearning for utopia, making him involve his friends in the rediscovery of this great beauty, overcoming the limits of matter and gathering up the energy set free by the miracle of rebirth, in a different appreciation of what the world provides. "And so I embrace you, the coming hour of day, / always the first and ever brief. / I embrace you with tenderness, utter and imperious / fire of love, or human life": a motion of love, of vital enthusiasm that does not forget the falls, the fears, the doubts, the anguish, and still wants to bring together the geographies of his experience, to sing the technological obelisks of New York and the ancestral mystery of Gargano.
It is good that Tusiani chose to involve his closest friends in this new chapter of his creative life, by sending them not just compositions in Latin, but other long poems written (more often) in Italian, in the Gargano dialect and in English. It is a joy that is shared, unbounded and contagious, almost a celebration of creativity become the daily tempering of the red-hot iron of language. "Share with me, my friend, this dream / and this old man will never stay old". Even more deeply involved, we could re-phrase the title of this book to "Ad majorem carminis gloriam", a flagrant celebration of poetry: "The morning dew has gone but it stays in me, / the rain has stopped and the wood is a world of fronds, / the flower is silent, but to me alone it sang a hundred solemn poems, / and the color of things is in me an undying light.