- FEBRUARY 2018 -
Literature
The Yawning Rabbit River Chronicle,
politically correct fable for children and adults
Interview with Janine L. Kimmel, author of the work together with the Italian illustrator, David Ceccarelli.
The story of a courageous rabbit thief, a vulnerable tortoise, of people "with" and "without" umbrellas that tells of life and the importance of forgiveness and tolerance
by Maria Lisella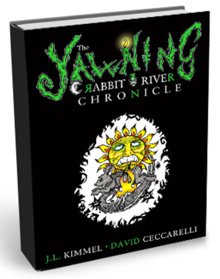 The Yawning Rabbit River Chronicle,
the book by Janine L. Kimmel
and David Ceccarelli
If you read The Yawning Rabbit River Chronicle, as an adult or a young person, you will enter a world where some children don't matter to some adults, where rascals can become heroes despite their imperfections, where tolerating differences is the key to knowing who to trust.
A few words about the creative team: J.L. Kimmel is an American author and David Ceccarelli, an Italian illustrator; both have faith in their intuition, both take chances with the unknown. Together they created an enchanted place that is frightening, compelling and not for children only. How their talents produced the spellbinding Yawning Rabbit River Chronicle is also a bit magical.
Please, talk about the trans-Atlantic collaboration with Ceccarelli.
David Ceccarelli clicked on my site and introduced himself; we met on-line via email and in-person for the first time at the London Book Fair in April 2007. One rainy day David mentioned he had gotten wet in the rain. But, like me, he never carries an umbrella so we called ourselves, "The no-umbrella people". We joked about this; before we knew it we created an imaginary town made up of "The umbrella people, and the no-umbrella people" whose differences are featured in Part 3 of the Chronicle.
Was there an overlap between who the writer was and who the artist might be?
We collaborated on the story ideas, and I wrote the details, the dialogue. We created the characters together and David would draw them. Many were done when we were together in Ireland. I painted a giant map of the land and then David gave it his own style. Marvelous result! I love maps in adventure stories.
Would you be collaborating again with him?
We are now developing a younger age illustrated children book in Italian called The Frankie Family, a family of purple hippopotamus, for Cavinato Editore International, that will be published in Italy probably in December and may eventually be published in English as well. There could be more of The Yawning Rabbit River stories or a Penny Boy because as an outsider, he is very popular.
Some might say the book is very symbolic…
Yes, it's loaded with archetypes and symbols. Sean, the rabbit is all heart, the outsider, willing to accept uncertainty and driven by love despite a lack of confidence. The Great Watcher and the Violet or The River Goddess see this in Sean and anoint him. Sean, the rabbit, has a sense of fairness, and isn't afraid to buck authority. He wins everyone's heart. He is the extraordinary in the ordinary.
How does your transpersonal counseling therapy come into play in this book?
I have a natural tendency to want to know the characters as they interact with each other; I recognize all of us contain something of these characters; I become each character; some are lost, others transform; others do not grow.
I particularly relate to the turning points when some characters lose their confidence in themselves: Sean at the Pine Tree scene and when Nil removes her turtle shell. At those moments, the story shifts: Sean's self-realization is quicker but Nil's vulnerability takes more time.
What age do you picture your reader as?
The book's fans range from eight-year olds to 70 year-old men and women. David's art is both very storybook, intense, energetic yet classic. I think it challenges some readers yet it is intriguing and takes readers out of their comfort zones like any true adventure of life and imagination.
Have either of you ever received fan letters from readers?
A 70 year-old man (who sells home mortgages) called me. He could not put the book down and missed work. He asked if Penny Boy could have a mouth in the next story. Aoife O'Mahony from Ireland wrote "…the truth of Sean's quest gripped my heart".
There are many moments of compassion, tolerance and forgiveness in the book. Can you speak about that?
Certain characters find forgiveness easily like Dusty Miller and Francis Begley. Those characters most connected to nature show this quality much more than those characters who do not relate to nature in a positive way such as Ash, George Miller, Devlin, and the Millers. In the end, Nil says we are here to be good to each other. Edward the Eagle who lost his life's purpose is a good example of how he softens and comes to see Sean as a courageous, imperfect, bold, loving rabbit thief. These qualities can often win the hearts of skeptics and cynics.
Your characters are not passive. How does this translate off the page?
Nil and Sean were meant to be flawed; they suffer through moments of doubt but go forward. They reveal human qualities we all share. Learning how to ask for and receive help is illustrated among very odd characters like Jelly Pain; Nil shows compassion and inclusion with Jelly.
These relationships – among Nil and Jelly Pain and the no-umbrella vs. the umbrella people, Penny Boy, the Millers – are rich and relevant and open the conversation about prejudice and tolerance in the real world.