- FEBRUARY 2018 -
Literature
Grace Cavalieri, Queen of Poetry in FM
A writer, poet, and journalist she considers herself first Italian and then American.
To bring poetry to people is her mission: for 36 years she has successfully hosted the radio program The Poet and the Poem
by Maria Lisella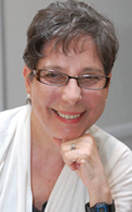 Grace Cavaleri.
Photo courtesy
of Dan Murano
When the blood of the U.S. ran hot with Black nationalism, gay rights, and the cultural revolution, in 1977, an Italian-American named Grace Cavalieri, suburban housewife, mother of four, living on a Naval base, was one of the founders of an "all jazz radio station" WPFW-FM, the first Black-managed public radio station in America, the fifth of the Pacifica chain of progressive broadcast entities. She radically opened the microphone to the city inviting poets, non-poets, ordinary citizens to share their voices on the air waves.
Best known for The Poet and the Poem, which is celebrating its 36th year of being on the air as an hour-long radio program, Cavalieri continues to produce and host on public radio. Her programs include every Poet Laureate since 1989 and a significant collection of African-American poets.
Cavalieri has written 16 books of poems and 26 produced plays. Her newest publication is a chapbook of poems, I Gotta Go Now (Goss:183, Casa Medendez 2012). Among many other accolades she holds the Allen Ginsberg Poetry Award, a Paterson Poetry Prize, a Pen Fiction Award, the Bordighera Award for Poetry, the CPB Silver Medal plus others. She lives in Annapolis, Maryland, and was married to metal sculptor, Kenneth C. Flynn who has recently passed away. She has four children and four grandchildren.
Of Sicilian and Venetian descent, American-born Cavalieri talks to Bridge Puglia USA about her first forays as a suburban housewife interviewing major national poets, how her italianità impacts but never limits her work, and why poetry is as necessary as air.
How is it you became so closely aligned with African-American literature? Ironically, I was more attracted to Jewish culture and years later after my father's death I learned that my father's family was Jewish. But the African-American link came through poetry rather than cultural or political affiliations. I was helping to set up and teach writing at Antioch College's east coast campuses, (in Washington, D.C., Baltimore, and Columbia, Maryland) in 1970-75 and the population was mostly inner city Blacks.
You've said, "I taught Black literature and I found my freedom as a writer."
The poetry and plays written by Black writers at that time, like women and gays, unleashed the truest sound in the world. When I heard a new radio station was being planned to go on-air in Washington, D.C., and they would needed a drama and Literature Director... a Black station... I had the love and history on my side... and went about working for three years to fundraise and get the station running. Because Washington D.C. has a significant Black population, this radio station became the voice of the people – many of the poets had never been heard before but the radio program gave them a platform.
How did you come upon the interview/radio format?
I didn't care that poetry was not popular, I didn't care listeners were used to commercial products, I would not allow cornflakes and hygiene sprays to take over the airwaves when poetry was available. I worked three years fundraising and sweeping floors to get a radio station on the air, to establish a platform for poetry. By February 1977, WPFW-FM went on the air with Sterling Brown reading poetry with Duke Ellington's "A Train" as our theme song.
Any notable moments from "The Poet and the Poem"?
Although I was making poetry available in a way that had not been done before, I still had to prove myself. Gwendolyn Brooks was wary of me, but became a friend; Allen Ginsberg insulted me but eventually respected my work. My most profound memories were of truck drivers, prize-fighters, drunks, grandmothers, who called in to read their own poems.
You've said, "My heritage is my strength and my weakness; my wish to claim what is mine, my fear to do it."
 I am Italian first and American second; my grandfather instructed me to say, "I am an Italian American". Only recently have I been included with other Italian American after winning the Bordighera Award for Poetry. My heritage is an ongoing theme I have only begun to explore, there is so much richness waiting, the past has so many stories, but I cannot be objective about its effect on me yet. I have yet to make enough use of it. This worries me. But the past is all still in my future.
What do you see as poetry's role in society?
Poetry is the way we rinse off language. If it were not for poetry, we would all talk in slogans and TV commercials. We would use the language of politicians – words with no meaning. Poetry is, as Allan Grossman once said, the way we preserve the beloved.
I see it as the great equalizer, the democratic ideal, the way every person can speak with an inimitable voice, the miracle that each one of us has our own breath and cadence that cannot be stolen. Poets document what it is to be alive at this moment in history.
What would you like readers to come away with from poetry?
I wish and hope they think: I felt that same way but just didn't say it. … I'm so glad someone said it for me. I feel less alone now.