- FEBRUARY 2018 -
Let's Eat Italian
New York
Osteria Il Paiolo
An excellent polenta which comes in countless versions but also innovative cooking, like chocolate pappardelle with boar ragout
by Epicuro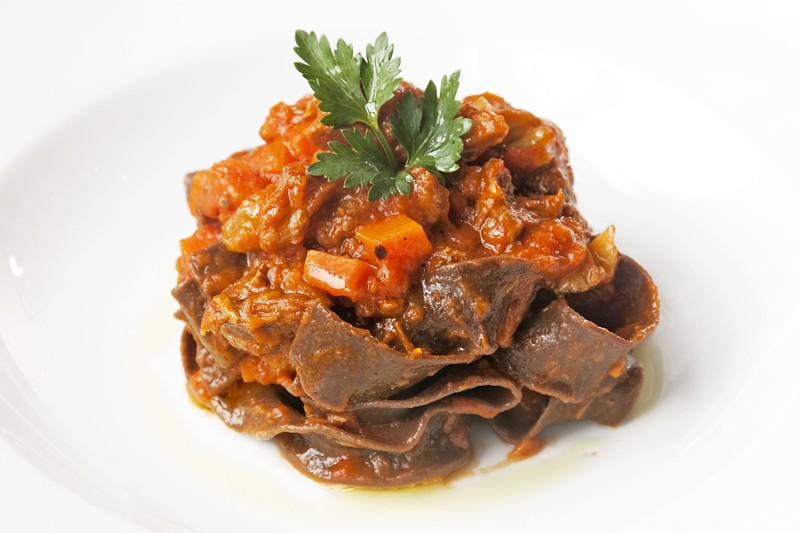 Chocolate "pappardelle" with boar meat and vegetable ragout
Polenta is common in most New York City Italian restaurants as a "special of the day". Here, given the name, you find the largest selection of polenta dishes anywhere. With some seasonal changes, you find polenta e osei, or polenta concia, or polenta e luganeghe or polenta gamberi e rosmarino, etc. The pastas are also very interesting: chocolate papperdelle with boar meat and vegetable ragout or agnolotti stuffed with duck foie gras in a moscato reduction. The entrees are more traditional.
The restaurant shines again with its desserts, especially panna cotta al cioccolato or the cheesecake with a spectacular raspberry sauce.
The wine list is varied, with some interesting names like "L'avvocata". Prices for food and wine are reasonable.
Il Paiolo is different from the traditional restaurants in New York City, maybe because the owner, Alex Palumbo, is different. A racer of motorcycles, he receives many of his ingredients, including the polenta, directly from friends in Italy.
106 North 6th Street, Brooklyn, NY