- FEBRUARY 2018 -
Let's Eat Italian
New York
Tiella
Innovation, creativity and fresh organic produce make it one of the best restaurants on the Upper East Side
by Epicuro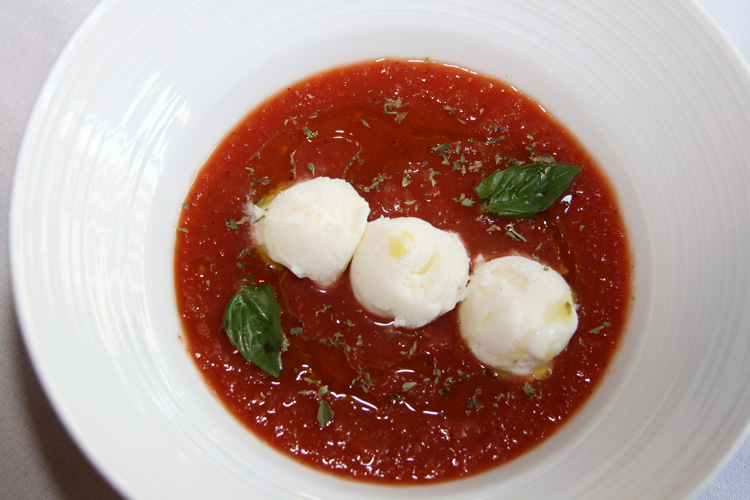 Cold tomato soup, topped by a parmigiano sorbet. Photo by Christina Figueroa
What Tiella lacks in space is surpassed by the outstanding quality of its food and service. Guiseppe Castellano (Chef Beppe) and partner, Mario Coppola (Maître d'), authentic young Neapolitans, have created a haven for Italian dining with an imaginative, eclectic menu and an approach to hospitality and service that outshines all competition in the UES (Upper East Side) of Manhattan. In an area of some one thousand restaurants, Tiella is among the very best for quality, service and price.
"Tiellas", cooked in a cast iron pan, are pizza-like temptations, rather than the Pugliese tiellas made with potatoes and mussels. The tiella toppings include stracciatella and fresh shaved truffle, robiola, fava and salami. All are representative of the imagination and desire of the chef to offer fresh, organic products in all of their menu selections.
The innovation and creativity of Chef Beppe are best displayed by his cold tomato soup, topped by a parmigiano sorbet. This selection was highlighted at the 2012 New York City Wine and Food Festival. This soup, offered seasonally, is a refreshing combination of flavors and colors that are beautifully displayed and equally delicious.
Like the food, the wine list provides interesting, high quality selections at reasonable prices.
1109 First Avenue, New York, NY
4 bridges = exceptional • 3 bridges = very very good • 2 bridges = very good • 1 bridge = good • 0 bridges = not worth it