- FEBRUARY 2018 -
Let's Eat Italian
New York
Marea: cucina del mare
Innovative and refined cuisine in the restaurant at Central Park South which was awarded a Michelin Guide star.
Expensive. But it's an authentic gastronomic experience
by Epicuro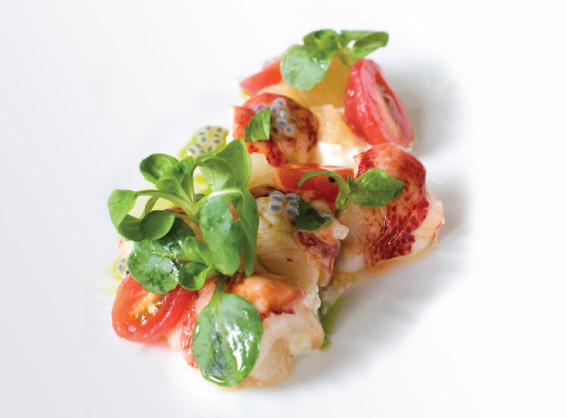 Lobster salad
      Replacing an excellent Italian haute cuisine restaurant with a completely new one is extremely difficult anywhere in the world, especially in NYC, and especially by a non-Italian chef and owner. Michael White succeeded. So much so that the restaurant received a star from the Michelin Guide.
      The time Mr. White spent working in Italy certainly helped him – personally as well, in that he married an Italian. What is most striking about the restaurant is the modernistic yet welcoming decor and the amazing list of Crudos. Over a dozen, some rarely found, species of fish!
      His signature dish of Fusilli with octopus and bone marrow has diners with American palates ecstatic and diners with Italian palates horrified. The general consensus is that this is where the future of Italian cuisine in America is going. What Italians in America realize is that such changes are also occurring in Italy as chefs strive to be different and innovative.
      Marea is expensive, but, when in NYC, it is a worthwhile experience.
      Two surprises on the wine lists: as a fish restaurant one would expect most of the wines to be whites, but here the majority are reds; one would also expect the wines to be expensive... and yes there are some very expensive wines but there are also very many reasonably-priced wines. The most amazing thing is the extent and variety of the wines: an oenophile can sit and spend the whole evening reading the list!
      As for desserts (there is a pastry chef)... go with one of the first three selections: Nocciolina pralinato, Fior di limone, or Carota. Each seems simple but is an experience unique in itself which alone makes going to Marea memorable. 
240 Central Park South, New York, NY
4 bridges = exceptional • 3 bridges = very very good • 2 bridges = very good • 1 bridge = good • 0 bridges = not worth it