- FEBRUARY 2018 -
Let's Eat Italian
Seattle
The Pink Door
In summer you can eat outside and enjoy the wonderful view of Elliot Bay.
The green lasagne is a must
by Flavia Pankiewicz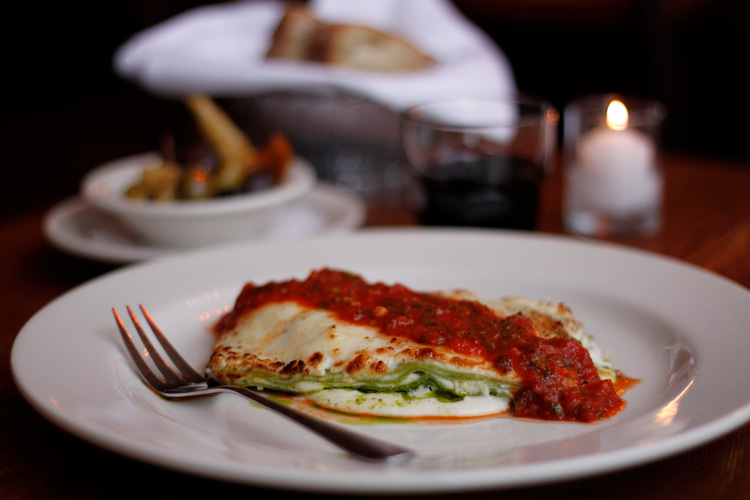 The famous Pink Door green lasagna
      One of the highlights of Seattle is its picturesque market: the Pike Place Market, on the waterfront overlooking the luminous Elliot Bay, with its many alleys, little stores selling the strangest of goods and a triumphant offering of fresh produce. A bit like the Boqueria in Barcellona, a bit like an Italian market, it makes you forget you are in the far west of the United States, a long way from Europe.
      This is the pleasing context in which you come upon the The Pink Door restaurant, with its warmly welcoming interior and its amazing terrace where you can have lunch or dinner, weather permitting, while enjoying the magnificent view of Elliot Bay, in a young, informal atmosphere, on multicoloured waxed tablecloths, amidst chairs painted in pastel colors and vases of flowers. The waiters are pleasant and attractive; kind and attentive to the diners.
      The owner, Jacqueline Di Roberto, was born in New York but is of Italian origins. Her grandparents were Neapolitan and emigrated to the States in 1920. She moved to Seattle 35 years ago and for the last 30 years has been managing this venue – to which you gain entry through a little "pink door"– with success, with the emphasis on good food and atmosphere, although in the evenings there are often also cabaret and burlesque performances. She points out that what she offers is American-Italian style cooking, that is Italian a bit "contaminated" by American style and also by the influence, ever-present in good Seattle restaurants, of what is called "Northwest cuisine", that boasts the use of raw materials (above all fish, vegetables and fruit) that are carefully selected, very fresh and often organic and as far as possible, produced in the area. Sometimes there is also a hint of Asian cuisine in the fusion.
      However, it's Italian cooking that inspires the whole Pink Door menu. You can start with the fettunta, grilled garlic bread dressed with a drizzle of just-pressed extra-virgin olive oil, move on to the paccheri with fresh prawns in vodka, or linguine with clams cooked in garlic, oil, chilli and white wine, and then taste the classic Northwest fish of the day, maybe fresh grilled salmon, accompanied by a cold white wine, to finish off the meal with a delicious sweet (the ones with fresh fruit are a real treat) selected from the inviting dessert menu.
      But the legendary dish in this venue is the green lasagne, recommended even by the most famous chef in Seattle, Tom Douglas, who, despite the fact that he has his own, personal, excellent restaurants, declares that he has been coming here for the last 25 years just to enjoy this fresh pasta made with spinach, flavoured with béchamel sauce and pesto (so no meat, to the joy of vegetarians) covered in a thin layer of tomato sauce. It is exquisite, and its delicate though intense taste will be one of your memories of your holiday in Seattle.
1919 Post Alley, Pike Place Market, Seattle, WA



4 bridges = exceptional • 3 bridges = very very good • 2 bridges = very good • 1 bridge = good • 0 bridges = not worth it