- FEBRUARY 2018 -
Let's Eat Italian
New York
I Trulli Restaurant
It was the first quality Apulian restaurant to open in New York. Among its keys to success is the ability of the owner, Nicola Marzovilla, native of Rutigliano (Bari), to involve the clientèle, and his mother Dora's hand made pasta
by Epicuro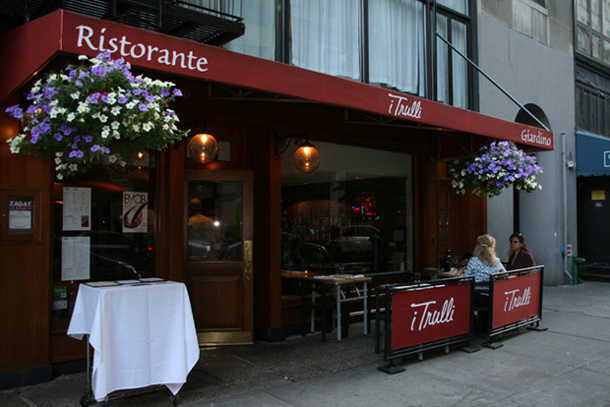 New York. I Trulli Restaurant. Photo courtesy of Christina Figueroa
In home page: Cavatelli with broccoli rabe
      Once you get past the uncertain receptionists the inviting charm of the setting is surpassed only by the irresistable charm of Nicola Marzovilla, the Rutigliano born owner (in the province of Bari). I Trulli was the first high quality pugliese restaurant to open in New York some 25 years ago, Nicola's mother Dora still makes an appearance every day if no longer cooking, still making "pasta a mano" and consulting as needed.
      At I Trulli you can savour some excellent dishes, starting with the exquisite homemade pasta Dora makes. Then orecchiette with broccoli rabe, beets with tomato, fava beans and chicory, then beetroot, panzerotti, pittole...
      It is customary for restaurant owners to "work the room" (converse and engage with the clentele whether they are know or not), something created by the american competitive lifesyle... this can be seen in a large percentage of places. No one "works the room" better than Nicola – to watch him is to see a master. That alone is worth the visit. Open for breakfast (another trend in the competitive restaurant business in New York and other cities) lunch and dinner.
122 East 27th street, New York, NY 



4 bridges = exceptional • 3 bridges = very very good • 2 bridges = very good • 1 bridge = good • 0 bridges = not worth it