- FEBRUARY 2018 -
New York - New York
That magnificent experiment of humanity called New York
The tale of an Italian in New York.
Originally from Bari and Salerno, after finishing his studies and living in various foreign countries, he moved to the Big Apple where he successfully set up "il mio viaggio a New York" (my trip to New York), a business offering original tours of the city.
"I think New York is the homeland of every emigrant. Here everything can be transformed into a fantastic experience... between a dream and reality"
by Piero Armenti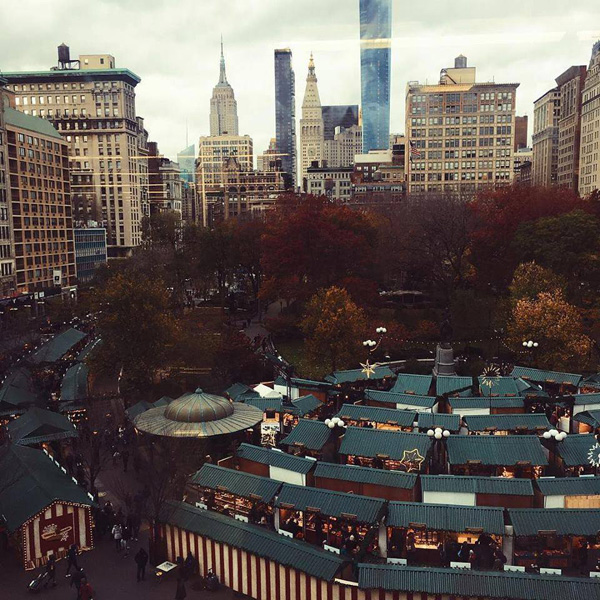 New York. The Union Square markets have a special magic at Christmas time. Photo by Piero Armenti
My name is Piero Armenti and I'm an urban explorer. For the last five years I've been living in New York, where I work in tourist marketing and run the business "ilmioviaggioanewyork.com". I arrived in this city sort of by chance, maybe feeling a bit lost after finishing my PhD in Italy. I didn't know what to do. I'd already lived a few years abroad, in Venezuela. And when you start traveling you feel strongly drawn to this city. After five years in New York I can say I'm not tired of it. It's a place full of life, it gives you the feeling it's got big plans for you. It doesn't give you anything free, you've got to earn it, even taking risks. The turning point for me was inventing the tour around the panoramic rooftops in Manhattan. This tour has been very successful and has made us quite famous all over the world. We had incredible numbers last year, up to 166 people with four coaches. People love to go from one roof to another, soaking up the view of New York. I think the city is at its best especially during the night, when people that work during the day throw themselves onto the streets. A river of people, mainly young or those that feel young. The feeling is that in New York you never get old. That you are constantly in activity, with your eyes wide open like a child still able to fall in love with life and what it offers.
I often come back to Italy, also to Bari, my home town, where we've got a house. And I find a lot Puglia here too. In New York it's easy to come across restaurants that serve typical dishes like rice, potatoes and mussels. For example I go to Trattoria Mercato to eat tiella, and it's delicious. That's another thing I adore about New York: there are all the Italian products, because the Italian-American community is huge, really numerous. You don't have to give up anything. New York is my city and it probably will be forever. I feel at home, in the way I consider a home, a hospitable place and all yours. But it's not just Manhattan, in fact we've organized a tour to visit the Bronx, Brooklyn and Queens. The thrill of standing in front of the Yankee Stadium that's a bit like the temple of American sport! Or the impact of the Jewish neighborhood of Brooklyn, along with sights from Dumbo: like a movie! Not to mention the experience of Harlem, being present at a gospel church service is awesome. We often think church must necessarily be something boring. But it's not, it can be a really happy experience.
It's important to get a complete idea of this city, including the outlying areas that are fascinating because they can tell you more about this experiment of humanity called New York
There are obviously some negative aspects, the rents for an apartment are very high. And wages are often not so high. But a lot of people here share apartments with others, it's pretty common.
Why stay in New York? It's a question I often ask myself, and everybody here does. After all, we come from Italy, we come from Europe, and we could find opportunities to work and start a business in Europe, too. However, I think New York is something totally different, I think New York is the home of every emigrant, and as such it pushes us to always give the best of ourselves, to give our utmost. That's what happened fo me. In Italy I would never have become a businessman. I didn't feel the need to do it. But here in New York, carried away by the madness of this city, by the craziness of its people, everything can be transformed into a fantastic experience. And into a great opportunity for your life.
You have to go around the city on foot, you have touch it, smell it, listen to it. Because from this point of view we're talking about a metropolis balanced between dream and reality. That's not an easy feat. Try taking a walk from Union Square to Battery Park to see how many worlds you pass through. Unique!