- FEBRUARY 2018 -
New York - New York
That "city of dreams", in Puglia…
Paola Bernardini, born in Barletta and a New Yorker by adoption, talks about her first short film, the winner of many awards, filmed entirely in Puglia.
"We feel let down by the fantasies that don't come true. But with these disappointments you learn and grow"
by Giovanni De Benedictis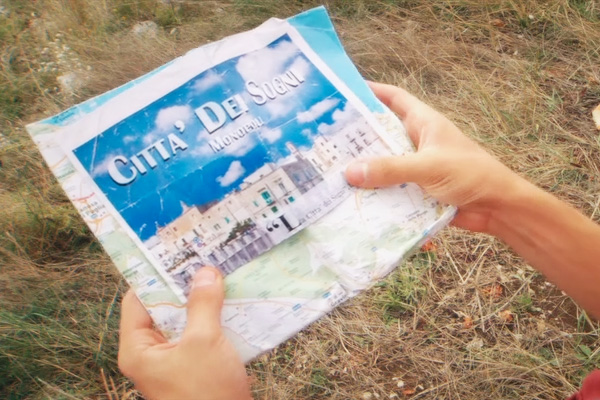 Frames from La città dei sogni (City of dreams) by Paola Bernardini
Inland Puglia. A teenager and a child run away from home to join their aunt on the Adriatic coast, in search of a better future. A simple idea, but laden with meaning, is the basis for The city of dreams, the short film that has won Paola Bernardini no less than four "Dusty Film Awards".
With her film, made in the Monopoli area, the young film-maker from Barletta, who trained at the School Of Visual Arts in New York, won the prize for best film, photography (to Yana Karin) and editing (Jared Simon), as well as the "New York Women in Film & Television Award".
Bridge Puglia USA decided to interview her to find out more about some points – not only related to the cinema – raised by the film.
Which work could be considered the inspiration for The city of dreams?
We were greatly inspired by films like Bicyle Thieves, Nuovo Cinema Paradiso and the American classic Stand By Me. It's a story about growing up, what in America is called a "coming of age story". I think all of us at some time have had a positive, optimistic idea of something that might develop in the future. Then it happens that very often these fantasies don't come true and we feel demoralized. From all those disappointments we learn and we grow. It's a very simple, universal idea.
Two kids run away from a mother who doesn't love them. Is this a reference to the crisis in families today?
The mother is a person who doesn't love herself and hasn't loved her children. There are some aspects that may be related to the crisis of the family, but that wasn't our main aim. Not all of us have terrible mothers to escape from, and I certainly didn't have one.
Is the gesture of spitting on the hand a way of saying that blood ties alone are the only thing that can save us? The brothers defend themselves from those who are richer and more powerful: are there any prospects for gaining social equality today?
Spitting on the hand is a gesture of trust that Giovanni, the older boy, invents to reassure his little brother. Repeating the gesture strengthens the friendship that is built up between the two. At the end of the film, it is Ernesto that does it. This helps them to be bold in facing those who want to take advantage of them and demean them by using their higher social standing. In this sense we can talk about claims for social equality, but also about resisting the abuse of power.
From stealing eggs to a future on the coast: is this a metaphor for the economic growth of Puglia, which has gone from being a rural region to being the most desirable tourist location in Italy?
The film certainly reflects a lot of the economic development of Puglia. The rocky landscapes and coastal scenery are related to the iconographic image that has become well-known recently. It must be remembered however – although the film doesn't mention it – that there are various economic activities in my region. I'm glad to see, for instance, that in Monopoli, tourism lives happily alongside the growing industries using advanced technology.
While writing the screenplay, how much did Dylan Gantz consult with you for the setting of the story in Puglia? Had he already been here or was he thinking of a story that would work in other settings?
Dylan Gantz and I developed the screenplay together because he had never been to Puglia and he needed my help to make it as authentic as possible. For some reason he imagined it to be like the sets for a Western. Once we arrived in Monopoli we went looking for locations for the filming and we changed the story. At that point Dylan got an entirely different perception and the screenplay immediately became much more authentic. He was even inspired to write other stories set in Puglia. When the script was finished I translated it all into Italian.
From Barletta to New York, a round trip: what was it like to be working in Puglia with an international crew?
Filming in Puglia was fantastic, the crew was small and worked extremely hard. It certainly was a unique experience, especially for my colleagues from New York. People love the place and now I'm often asked where Puglia is and what the trulli are. We were helped by a local Casting Director to choose the actors. People everywhere were very welcoming and helpful and that made our work much easier. Our school gave us trust and support, also funding, to make the film and I'm really grateful for that. 
Is there a better attitude to Italians abroad than at home, in this suffocating "country for the old"?
I don't think I was favored because I was Italian, but I notice that other Italians received awards at the "Dusty Film Festival 2015", which shows that our country is not lacking talent. What is needed is to create opportunities in Italy for young people like me, as they do abroad.