- FEBRUARY 2018 -
New York - New York
Times Square
the city that never sleeps
Broadway's theater zone stuns you with its cascading neon signs and its multiethnic crowd. The area of luxury apartment buildings around Central Park South, in the midst of millionaires and homeless people
by Joseph Tusiani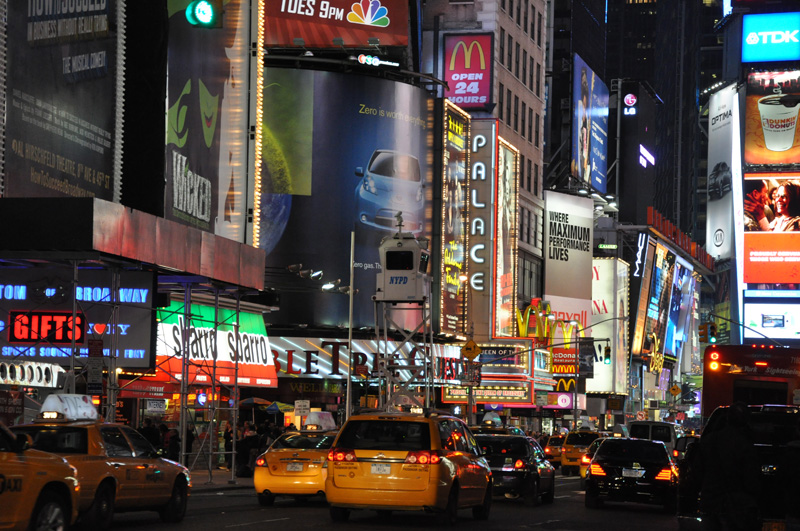 New York. Times Square. Photo by Anita Sanseverino
      You find yourself in the heart, actually the vortex, of the night, but suddenly the antique notion of time passing disappears, and you ask yourself how you passed from the last fading light of evening into this sparkling multicolored myriad that surrounds you, almost touching you, giving you the impression that the lights come from you, or you yourself emanate them. You look around and see people you have never met before but who seem to you to be like an immense family, your family. You feel as one with the thousands of people that brush by even though they come from every part of the world, speaking the most beautiful and odd languages, and dressed in the most complex and simple styles. They all seem American, yet if you ask them about themselves, they declare they are Asian tourists, Africans, Europeans, Australians, or even American Indians.
      Nocturnal New York is indescribable: It is a narrated fairy tale with as many versions as narrators. If for example, you notice when you are in front of Times Square, where the mythic skyscraper acts as a throne, from whose top, at midnight on the 31st of December the luminous time ball is lowered; counting down, almost pushed along by the eager anticipation of countless spectators to announce the new year, it is almost unrecognizable: It has become a skyscraper like all the others, having a common glow, rendered with a familiar belonging to a unique America, a unique mystery.
      Yes, because more than anything else, the New York night is a mystery. You are dazed by the infinite, blinking, luminous signs on theater entrances of every genre and for every taste: Operettas (that here they call musicals), different varieties of jazz, rock and roll, rag music, and you can add in whatever you are looking for, as you are sure to find it here. But, more than the signs themselves, their changing forms surprise you with every passing minute. The first ineffable stupor hits you due to the modern technology which has transformed the front face of this little 30-story skyscraper into a cascade of neon waves that ensue with equal rhythm pouring down towards the sidewalk, which is like a valley, as between the United States and Canada, the water of Niagara falls.
      Like a Dantean paradise, the lights break apart and are rearranged, becoming now two lips that taste a beautiful steaming cup of coffee, then the next moment a ballerina in a tutu pointing to an underground dance hall. Without noticing, almost pushed along by the crowd that surrounds you, you have walked twenty streets and avenues, and you find yourself now in a less whirling area but equally dazzling, in front of the Plaza hotel and Hotel Pierre: From the frenetic epic of Times Square, you arrive at the lyrical poetical works that mark the entrance to Central Park, where some horse-drawn carriages immediately enchant you with their festive garlands, awaiting romantic couples desirous of a memorable tour of the park. And all around, the prevailing yellow color of taxis that carry ladies and gentleman to luxury restaurants, after leaving the various theaters or, in the other four boroughs, tourists tired from their long day in Manhattan.
      But you are still in New York, which, in spite of the exciting turmoil of emotions you feel, is still a part of the real world, the world of lacrimae rerum (tragedy of life). There goes the lacerating scream of an ambulance siren that, imperiously and shrilly, says to pedestrians and drivers alike to move aside for an anonymous poor soul in life-threatening peril. And there, on a street corner, a bunch of old tattered clothes and cardboard boxes under which sleep a so-called hobo who does not know where else to go. And there again, on another corner, an old lady rummaging through a dumpster is looking for some sandwich scraps to eat immediately, or a sweater in useable condition to take, before they are impassively swallowed up by the garbage truck of the municipal refuse service.
      I will soon return to "Knicherbocker", the skyscraper where I live (I should say again a little skyscraper, having only twenty-two floors). It is located on the street where millionaire Mayor Bloomberg resides, and where the Vatican has bought a gracious building for the Apostolic Nonciature. In this wealthy area, there is more surveillance than in other parts of the city. Also, the more prestigious skyscrapers and little skyscrapers have names, such as Lincoln, Washington, Tudor, Wellesley, and so on. There is less confusion here, less congestion by visitors and tourists. There remain though, the unchangeable, interminable, and inexorable racing yellow taxis, public and private. The shop lights are left on till morning, and for two or three hours more, those of the multinational restaurants as well, some of which have just opened their doors to late-arriving guests.
      A well-known song, that one that says if you can make it in this city you can make it anywhere, calls New York "The City that never sleeps". And maybe it is true.