- FEBRUARY 2018 -
Italian American World
Italian-American writers on parade
It happened in New York, where for the 73rd Columbus Day Barnes & Noble, the famous chain of US bookshops, invited Italian-American writers to take part in the parade to promote their books. The Barese-American writer, Annie Lanzillotto, tells why she was enthusiastic about marching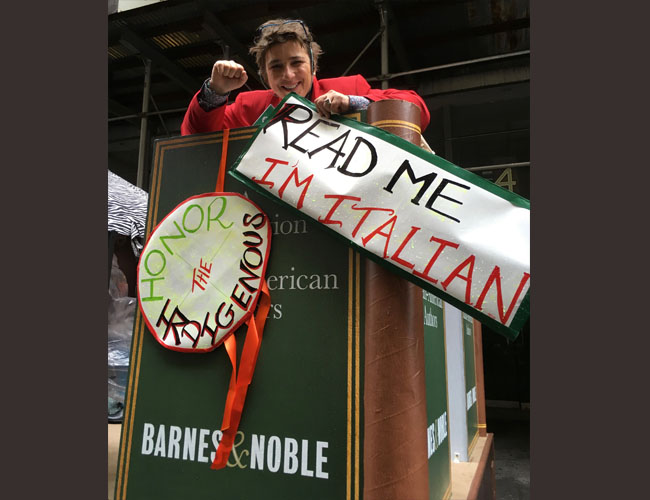 New York. Annie Rachele Lanzillotto during the Italian American writers' parade. Photo courtesy of Audrey Kindred
Columbus Day, in spite of the recent controversy, is still a great event in the US and many Italian-Americans celebrate it enthusiastically.
The date is the second Monday in October and in New York the celebrations and traditional get-togethers culminate in a gigantic parade that this year, in an initiative of the Barnes & Noble chain, saw Italian-American writers showing their imagination and vitality as they paraded around the streets of Manhattan on a float specially designed for the occasion.
Annie Rachele Lanzillotto, who specifies that she is Barese-American, with roots in Acquaviva delle Fonti, is the author of L is for Lion and Schistsong and has two works about to be published (March 2018) by Guernica Editions: Hard Candy: caregiving, mourning and stage light and Pitch, Roll, Yaw.
"I'm a pluralist – she says – I love going where I don't agree with everybody. So, when the call came for Italian-American authors to march up Fifth Avenue in the 2017 Columbus Day Parade with Grand Marshall Leonard Riggio, Founder and Chairman of Barnes & Noble, I responded, "Yes." I would go and exercise my right of free speech, by making handmade signs that expressed my beliefs. On one sign I wrote: Read me. I'm Italian, to buck stereotypes that we are to be kissed and pinched, and to boldly highlight our literary magnitude. I marched with my Barese peasant ancestors in mind who taught themselves what literacy they could. My grandmother Rose from Acquaviva delle Fonti, a fieldworker as a girl, taught herself to read in the Bronx by studying all the words around her; words whizzed by everywhere, on the sides of trucks, in stores, on trains".
"On another sign – continues Lanzillotto – I wrote: Honor the Indigenous, to name the consciousness that right here on Fifth Avenue, we march on hallowed tribal ground where bloodshed, rape, pillage, war, enslavement, and the decimation of indigenous peoples equaled the birth of this place we now know as 'country', yes rape resulted in birth, resulted in 'country'. I marched to support and be in concert with a plurality of voices. We gotta keep talking, honor the past and not just pave over it. E Pluribus Unum".