- FEBRUARY 2018 -
People
Tito Schipa lives on
To mark the 50th year since the great tenor's death we are pleased to publish the final chapter of Tito Schipa by Tito Schipa jr. (Lecce, Argo Editrice).
"The artist you love will not die"
by Tito Schipa jr.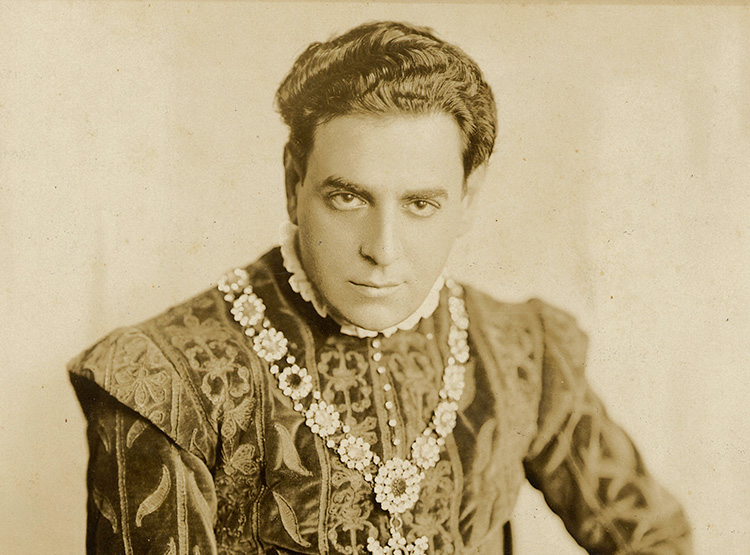 New York, early 1920s. Tito Schipa playing the Duca di Mantova in Rigoletto (Foto Lumiere). Photo courtesy of the Schipa-Carluccio Archive
A recurrent dream
For a long time I had a recurrent dream: my father had come back.
After a long absence, like his long tours when I was a child, he reappeared at home, smiling and affectionate, but changed, older and more tired. And in the dream, just like when I was a child, seeing him return gave me a sense of happiness and anxiety.
His absence had been just long enough for me to have to get used to his presence again and to get over a slight feeling of foreignness. And in a corner of my mind I realized I was a bit surprised by the fact that he wasn't dead yet. True, I noticed that during his absence I had prepared myself for the idea, I had accepted the idea of his death. But I couldn't make out whether or not this feeling was part of the dream, whether it came from my awareness of his real death or whether it already existed in my childhood.
However hard I try to separate dream from reality, I realize that my father was already a memory, a legend inside me when I was a boy, and seeing him come back in flesh and blood was always like a tiring, magical, tormented rite of resurrection.
So for me his death continues to be, just as it was then, something I had always been preparing for, a bad event but not a traumatic one, ambiguous but completely irrelevant to his profound presence.
I think it's like this for anyone who, loving an artist, somehow feels like their child in spirit. An artist, especially the artist you love, never dies. Death has no meaning in this dimension, as every poet has always known. Thinking of the mortal remains of Mozart or Shakespeare gives each of us the impression of a bad joke. What has that foolish mask, that poor inert puppet, got to do with the ocean of emotions, the living word, the eternal comfort of his work? The mystery of death reveals all its absurdity when the one who dies is a genius.
A similar mystery, equally unfathomable, is the real nature of what Art arouses in us. Every artist has his magician's act, his perfect flourish, at the end of which you find yourself asking:
"But what happened exactly, how did he do it?"
In the case of Tito Schipa the secret is even more indecipherable and difficult to put into words. Although you have listened to him over and over again thousands of times in your life, when you are away from the record player you find yourself thinking that that handsome gentleman from Lecce was certainly not Caruso, or Beniamino Gigli or Giacomo Lauri Volpi, and nor was he Frank Sinatra, or Louis Armstrong, or Carlos Gardel or Carlo Buti or Elvis Presley or Bob Dylan or Rod Stewart, or any of those who had an outstanding and highly personal instrument in their vocal cords, and who became the progenitors of their specific way of singing. And so you ask yourself why listening to Tito Schipa suddenly makes all the rest seem to fall to a lower level, to an excellent but limited level, to a relatively small thing as opposed to something absolute.
You approach the record player wondering for the thousandth time whether you might have exaggerated a bit. And for the thousandth time, as that voice opens out, with that perfect articulation, in the incredible tension of the melody, with the ability to be present, murmuring even in the most abstract of unnatural registers, you are hooked again.
Another great mystery of the history of the Theater comes to mind: think of Hamlet, the pondering lad about whom nobody has ever understood whether he was mad or just faking, that half a man who lacks the stature of King Lear, who doesn't have the allure of Iago, the perfidiousness of Richard or the passion of Romeo, and yet every time he is pulled off the page it is clear that he is absolutely the greatest, a champion, in a class by himself. Again you start asking yourself why. And you conclude that perhaps the titanic force of Hamlet lies precisely in his not being any of the great unique characters, but in his being, stupidly and definitively, man. Simply man, with the ordinary story of man, at times exciting, at times pitiful and harrowing, at times dramatic, at times comical, but perforce made profound just by being alive, by being man. The huge genius of Shakespeare, applied to a mediocre man, created an unrepeatable work of art.
Tito Schipa brought to a mediocre man the greatness of his vocal art, his interpretative and creative skill, which has no equal in the history of singing.
For us who belong to the area between the Mediterranean and the wilds of central Europe, the area where truly great music was born and reached its peak; for us who mysteriously rejected the age-old tradition of telling stories in music which was what made us famous all over the world; for us who have to preserve the receptors of the great melos hidden somewhere in our chromosomes; for us this is the way of singing that more than any other should represent the unleashing of emotions, the awakening of Dionysus, a spell cast by the ancient song of man.
Looking at the record going round each time, and round again, we realize that with Tito Schipa we are not merely listening to a great singer but to the one that we know should be, for us, the voice of man singing. We are listening simply to the miracle of the voice. Our voice.