- FEBRUARY 2018 -
People
Don Tonino Bello
Peace Messenger
The President of the Region of Puglia, Nichi Vendola, who was bound by a deep friendship to the Bishop of Molfetta, for whom a process of beatification is under way, depicts a brief but intense portrait of him for Bridge Puglia USA, on the 20th anniversary of the Bishop's death.
Peace as a "daily practice on everyone's agenda"
by Nichi Vendola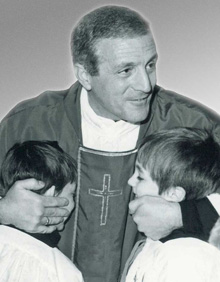 Don Tonino Bello, Bishop of Molfetta,
born in Alessano, in the province
of Lecce, died in 1993
For Don Tonino, Puglia was the kaleidoscope to see the world through, to see the infinite nuances of lights and shadows, the filigree of enlightening stories and depressing happenings that for him, in some way, was the icon of mankind on its journey.
Don Tonino Bello was a man of the South. From this corner of the world, where age-old olive trees mark the boundary between land and sea, the word of this bishop became action; accusation but also announcement, hope and proposal of peace.
Not a fleshless and ethereal peace, but peace combined with justice, truth, solidarity, the safeguarding of the environment, and non-violence. Not a peace intended as monotonous rhetoric or a flight from politics, or as a transcendental concept relegated to the theories of clerics and philosophers, but as the main commitment on the civic agenda, as everyone's daily practice.
From Puglia, Don Tonino Bello urged us to turn our swords into ploughshares, and our spears into scythes. That is, radically alter the development model and form of power: thus freeing human history from its encumbrance of oppression and violence, eradicating from our languages every war code.
He urged us all to feel responsible for the portion of Europe that dives into the Mediterranean to build peace policies that become realities above all through the primacy of human rights. Peace, for Don Tonino, meant justice and above all, human rights.
He would often say that noble words like peace, love and freedom had been affected by a sort of syndrome of distorted meanings "so that you could no longer swear blind on the idea that they subtend". A peace invoked by everybody, but practiced by the few. Development that is combined with the crudest kind of industrialisation, or can be the paradigm of participatory and sustainable growth.
I dearly hope that the prophetic words of our friend the bishop continue to stimulate each of us to do more and to do better. To do our bit.