- FEBRUARY 2018 -
Museums
Among the trades of the past
At Gioia del Colle, in the "Museo della Civiltà Contadina", the Museum of Rural Civilization
An extraordinarily impressive collection of old objects and tools connected to a great variety of trades.
Vito Santoiemma, the museum founder, collected them, starting from the tools of his family's activity, over several decades. He would like the museum to become a community heritage site
by Francesco Giannini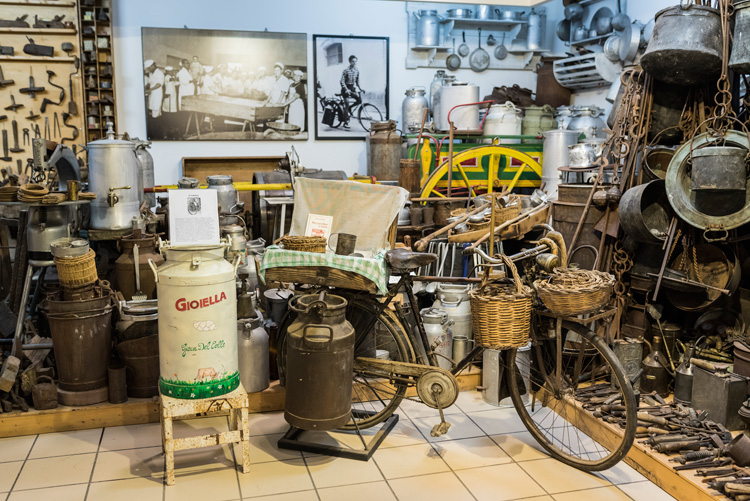 Gioia del Colle. Museo della Civiltà Contadina (Museum of Rural Civilization). Photo courtesy of Carlo Criacci
Just a few kilometers from Bari, at Gioia del Colle, a pretty town from the age of Frederick II and well-known center of the ancient Peucetians, the home of Primitivo wine, extra virgin olive oil and the Gioiella mozzarella, there is a place where the trades of long ago have not disappeared, but are alive and well. In fact, even though they are crystallized in a static form, the objects, tools and implements used in the crafts of the past actually talk, bringing us back to our rural farming tradition and letting us relive experiences of times gone by.
The first surprise is that here we don't breath an atmosphere of dust, long lost things and regrets, but we come into contact with a past that is full of life and industriousness, elements that have brought fame and success to Gioia del Colle and its hard-working inhabitants.
This place is the Museum of Rural Civilization, or rather the Ethnographic Musem of Puglia and we could call it a great example of a library of the town's history – history of Puglia – not written in books but collected, preserved and made accessible, through this extraordinary collection of objects, for all those who want to jump back into the past and encounter the sacrifices, the intelligence and the greatness of previous generations. Its director, founder, creator and promoter is Vito Santoiemma from Gioia, a vet, who told us, in brief, how his vast, valuable collection started and developed, growing into a museum.
Everything started from his love for the donkeys on the farm owned by his maternal grandfather, Vito, a well-known breeder from Gioia del Colle. Following in his footsteps, today Santoiemma still raises a few donkeys. Thanks to this he managed to buy the first piece in his collection: a mill- stone for grinding feed for the donkeys. From his paternal grandfather, Stefano, who had a timber and iron industry, he inherited the building that houses the museum, some of the old machines and the art of getting things done. The museum is purely the result of his enthusiasm.
After graduating in Veterinary Science he began to collect the family tools, and over a thirty-year period, Stefano's grandfather's building filled up not only with tools from old vanished crafts but also with valuable pieces related to the film industry, typography, motors and even hearses, with horse-drawn funeral carriages.
The museum is divided into various sections. There are tools connected to farming activities: wooden and iron plows, seeders, reapers, forks and pitchforks, balers, shovels, ladders, stone troughs, traps, egg incubators, equipment for animal husbandry. And also tools related to many different trades: saddler, blacksmith, mason, stone cutter, shipwright, wheelwright, carpenter, iron monger, turner, knife-grinder, potter, pottery-repairer, boiler-maker, cobbler, hatter, chimneysweep, cooper, candle-maker, butcher, typographer, book-binder and restorer, watchmaker, auctioneer, milkman, decorator, tailor, carder, mattress-maker, weaver, bike-hirer, lace-maker. Then there are the utensils for use in the home: trowels, bean-crusher, coal clothes-dryer, buckets, basins with stands, scales, toasters, heaters. Then the enormous display of equipment for wine-making and distilling, for producing oil, for cheese-making and milling and for baking bread (hand grinders, pestles, mills, sieves, polishers, cereal graders).
Of special interest is the reconstruction of a water-wheel, an ancient hydraulic instrument for getting water from a well, presented with a papier-maché mule to remind us of the work done by the animal to get the machine going.
Several old mills have also been purchased, and then restored thanks to technicians specialized in the repair and maintenance of the various parts comprising the machinery. The work of such technicians is also dying out and their interventions will be used to educate students and visitors to the museum.
The collections also contains some buggies, carts and two funeral wagons: one for children and the other for adults; equipment for wind-powered lighting, ice-boxes and ice-cream machines, an ice-cream vendor's barrow, photography gear and even a first-aid box and writing desk from the Great War. There is also some clothing typical of farming life, furnishing accessories and objects used in the past.
All the objects and implements on display in the museum have been restored and are in working order.
Santoiemma reports that he is about to set up a Foundation, which he says is necessary to give the museum a future and he underlines that he would be willing to donate it in order to achieve the plan of a late townsman, professor Mimmo Castellano (a leading exponent in the world of Visual Design, a graphic artist and museum curator) who hoped to establish a "Citadel of Culture", an itinerant-dynamic-interactive Museum, with a School of Arts and Crafts attached.
"I wouldn't mind a twinning and initiatives of cultural exchange with a museum in the United States", says Santoiemma. "Anything to make this museum more and more the heritage of the people".