- FEBRUARY 2018 -
Museums
The Jatta Archeological Museum of Ruvo di Puglia
Little and precious
In the charming town of Ruvo, whose cathedral vaunts one of the most beautiful Romanesque rose-windows, a national museum that offers visitors a plunge into Magna Grecia, midst earthenware, jewels and weapons.
On the magnificent vase of Talos, the naked body of the dying hero is a scene of tormenting melancholy
by Lino Patruno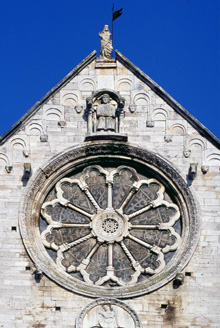 Ruvo di Puglia (Bari). The magnificent
rose-window in the Cathedral.
Photo Archivio Fotogramma
How lovely Ruvo is, with its tree-lined streets and its little 19th century stone palazzos. And how sweet its Cathedral in the small square, completed in 1237, illuminated by one of the most beautiful rose-windows in a Puglia and defined by Renato Guttuso as the most admirable example of country-Romanesque art. Country because round here it's all a tidal wave of olive trees immortalized by painter and sculptor Domenico Cantatore in his emigration to the fogs of Milan. At the center of the large park of Alta Murgia. A stone's throw from Castel del Monte, the world heritage mystery. And not far from Trani, the lovely noblewoman of the seas. Or from the Barletta of the Disfida and the Palazzo della Marra with its masterpieces by De Nittis.
But, in the wonder rankings, how high would the Jatta Museum rate, radiating as it does in the world the last precious witness to times gone by? The last Italian "home-made" museum in years in which gigantism, technology and publicity dominate even the archaeological scene. The last museum with the intimate atmosphere of a sitting-room, as if our host was still a 19th century gentleman with a long beard and moustache; Giovannino Jatta in person. Because this museum has remained just as it was, an outdated concept, but just for that reason even more unique; pieces in no chronological or geographical order just placed there together with his own things according to the taste and preferences of the owner, who wandered around the place every day, enjoying and even being moved by them.
Understandable, since they had come straight from Magna Grecia, and had been saved by him from a fate of being stolen or destroyed. Pieces, each of which would make the fortune of any other great international museum, like many other carried off and scattered all over from New York to Munich, from Paris to Leningrad, from London to Karlsruhe. They had been there in the kingdom of death for nearly three thousand years, that is, in the tombs that were the tender witness to the habit of consigning all those objects that might be useful to the dear departed on the Other Side. Testimony to a way of life and ethical taste that we still wonder at.
Just the vase by the Greek painter of Talos is enough to enlighten us to the immensity, and who knows how many billions they would give to have it. It was 2.500 years ago, and no story has ever been more dreadful. Talos was a giant set up by Jupiter to guard Crete and prevent anyone landing. He was invulnerable, apart from a vein in the malleolus "la quale potea divenir arbitra di sua vita o sua morte" (which could become arbiter of his life or death). And even the Argonauts, veterans of the conquest of the Golden Fleece would have been halted by his fury if it hadn't been for the perfidious sorceress Medea, egged on by the deadly Parche. Medea, "coll'invido sguardo, poi ch'ebbe invelenito l'animo" (with an envious glance, poisoned his soul) and bewitched Talos so thoroughly that he banged his vulnerable malleolus against a stone, "alfine esanime stramazzò con grandissimo rumore" (and in the end died making a terrible noise).
The naked dying body of Talos is a scene of tormenting melancholy. Only the Dioscuri Castor and Pollux, who hold him by an arm and round the chest, prevent him from flying off the vase towards Eternity.
Talos hasn't moved from there since 1848. And not only vases, but statuettes, earthenware, jewels, utensils, weapons: a head-spinning enfilade. Still there together with those good souls, the Jatta, who you can bet are still there, and to whom Ruvo owes so much and who knows if it ever gives anything. But whom the Good Lord will certainly look on with a certain regard, as is only right for anyone who has loved and conserved a thing of beauty, especially one as stunning as this.