- FEBRUARY 2018 -
Apulian Wines
TERROIR
The men, women, culture and land in wine-making
"Negroamaro"
This is the most important and exclusive vine of Puglia. It was once used to "strengthen" wines made elsewhere. Today it gives life to innumerable Apulian labels of great prestige.
The role of the Irpinian oenologist, Severino Garofano, who is now a Salentino, has been crucial. At his Azienda Monaci the red "Le Braci" and the rosé "Girofle" are completely made from Negroamaro grapes and they are excellent
by Angelo Pellegrino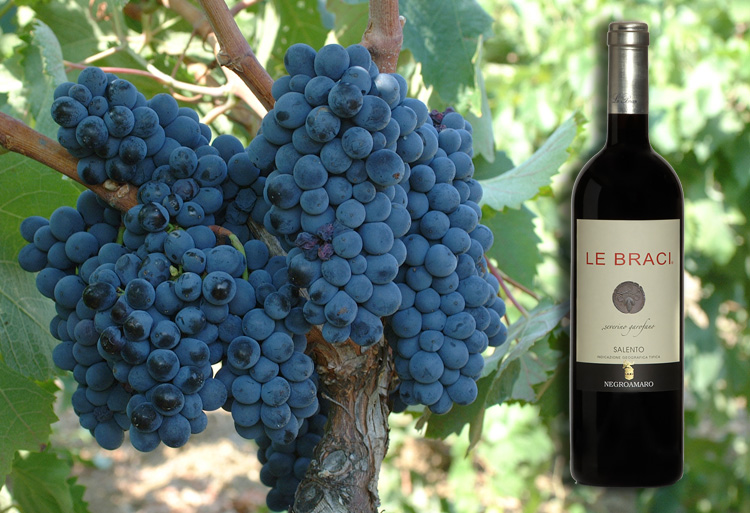 Species of vine: Negroamaro
Synonyms: Niurumaru, Rosso di Lecce, Albese nero, Uva lacrima, Uva cane, Nero leccese, Nicra amaro, Mangia verde, Nostrano
The Company: Azienda Monaci
The people: Renata and Stefano Garofano, Severino Garofano, oenologist
The headquarters: Copertino in the province of Lecce
The wines: "Le Braci" IGT Rosso and "Girofle" IGT Rosato, 100% from Negroamaro grapes
"It was in 1956 when I arrived in this famous region, whose great wine production from ancient vines supplied half Europe and all that was needed to cure the anemias of many famous wines... All the railway lines where surrounded by imposing distilleries and wineries of great companies from northern Italy… Then the musts were sent in huge tank wagons… That gentleman and enlightened wine-maker: Cavaliere del Lavoro (Knight of Labor) Francesco Candido did not come to welcome me, as he had promised. He had invited me to visit his company in San Donaci to assess the possibility of collaborating for the management of his vineyards…"
These are Severino Garofano's words, one of the men of Puglia who, though originally from another region (Irpinia), has been able to exploit the gifts of this land and fully exalt all its virtues. His wines have told the stories of Salento for more than half a century, carrying the taste of this land beyond the Ocean. In 1956 he moved to Puglia, starting his great career as an oenologist able to give a unique contribution to the image of Salento and Puglia's viticulture.
Today, after years dedicated to local wine-making glories, he focuses his attention on his family business, the Azienda Monaci, in the neighborhood of Copertino (the village of St. Joseph of Cupertino, the saint who could fly). Here he manages perfectly to transmit love and passion for the vineyard and for wine to his children Renata and Stefano, who have inherited from their father his refined, warm, and kind manners in dealing with people, a gift that becomes even more elegant with their mother, signora Teresa.
Seven are the wines produced from grapes grown at the Azienda Monaci: "Le Braci", "Eloquenzia" and "Girofle", from Negroamaro; "I Censi", made from Negroamaro and Malvasia Nera; "Le Briciole", passito made from Malvasia Bianca and Chardonnay; "Simpotica", from Negroamaro and Montepulciano; "Sine Die", made from Aglianico.
Negroamaro was brought to Puglia at the time of the Greek colonization, together with many other vines. Already at the beginning of the 19th century Salento had created a homogeneous vineyard, thus giving a marked feature to its wine. Today Negroamaro is the most important and exclusive species of vine in Puglia. The wine made from this vine, with its thousand aspects, the result of the many micro climates of Salento, of the growing techniques, of the care of the grapes and of the processing in the winery, always possesses one feature: it is a black and bitter wine. From this variety stems the great Rosato del Salento.
A vine which Severino, more than any other, has made successful thanks to the valuable collaboration of companies such as Candido, Taurino, Agricole Vallone, and the Cooperativa di Copertino.
Tasting
"Le Braci", IGP Rosso, is the flagship wine of Azienda Monaci. An intense color with purple nuances, tending to pomegranate-red. Soft, elegant, and sumptuous to the palate, the bouquet is intense and has a rich scent as well as with a long persistence of gustatory and olfactive sensations.
The over-ripeness of the grapes, or rather their forced wilting, confers to the wine a complex structure. It is a wine that develops all its potentialities already during aging in small wooden casks, which, besides stabilizing the color, induces a reduction in astringency; the wine acquires a fresh aroma and a regal sumptuousness.
Its flower and fruit scents are well emphasized: mint, plum, the extremely fine hints of fruits, licorice, vanilla and spices.
The mellowness of its long taste finishes with a pleasant slightly bitter hint of the vine it stems from: Negroamaro.
"Girofle", IGP Rosato. It is written "Girofle", but it reads "Garofano". Bright coral red, with hints of cherry. Its scent recalls hints of flowers, with nuances of red berries; pleasant, clear and very fresh to the palate.Clou de girofle, clove, is a strong spice with a warm, rich, and intense aroma; its taste is both pungent and bitter. Spices convey exotic scents and tastes which can often be associated with the character and the value of wines, particularly with this precious vine that is able to mark subtly its rosato and more strikingly its great aged red wines.
This trademark has been chosen not only for its powerful characteristic, which evokes the fascinating qualities of spices, but especially because its producer has always been obsessed with reaching the excellence of quality wine.This rosé is a wine that today recalls all the traditional values and the roots of Salento's quality wines.
Pure Negroamaro - other Apulian labels:
Pure Negroamaro wines produced in Salento are numerous, but in this section we will just mention those that are the result of the work and commitment of Severino Garofano. Wines not to be missed! Thanks to Garofano and to the companies that have believed in him, these wines are monuments of Salento's viticulture.
Cantina Sociale Cooperativa di Copertino: "Copertino Doc Rosso" and "Rosso Riserva"
Azienda Taurino: "Patriglione" and "Notarpanaro"
Agricole Vallone: "Graticciaia" and "Vigna Flaminio"
Azienda Candido: "Duca D'Aragona", "Le Pozzelle Rosato", "Cappello di Prete"