- FEBRUARY 2018 -
Apulian Wines
TERROIR
The men, women, culture and land in wine-making
"Ottavianello"
A vine of French origins, introduced into the Brindisi area in the late 19th century.
Racemi of Manduria uses it in its pure state to produce the fresh and delicate "Dèdalo"
by Angelo Pellegrino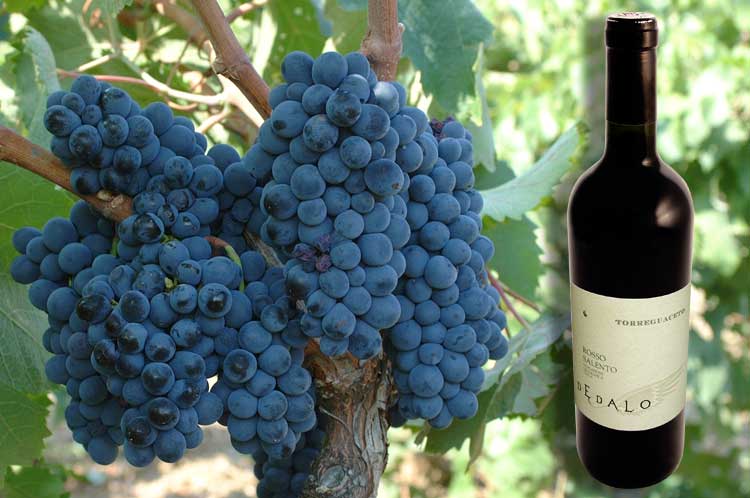 Species of vine: Ottavianello
Synonyms: Ottaviano, Ottavianuccia leccese, Cinsaut (in France)
The Company: Racemi
The people: Gregory Perrucci guides a young and enthusiastic staff, Cosimo Spina, oenologist
The headquarters: Manduria in the province of Taranto
The wine: "Dèdalo" produced from Ottavianello grapes
I met Gregory Perrucci at the beginning of 2000, a moment in which my passion for wine was, as if by magic, becoming all one with my profession. In fact, in those days, I used to go up and down the Salento peninsula looking for good, capable entrepreneurs in the agri-food sector who would deserve financial backing through the "Banca Verde" (Gruppo MPS), which, by now, has sadly come to an end. Clearly my favourite sector, also because it was very promising, was the wine-producing one.
Manduria is still one of the most interesting areas thanks to a growing market interest in a great vine: Primitivo.
Gregory Perrucci let me get to know his company and his closest collaborators. I immediately realized that I was in the company of a very enlightened entrepreneur, able to keep ahead of the times, imaginative, capable of transforming dreams into reality and, not least, a jazz lover, another passion we have in common (and a good pianist!). A natural mutual empathy was born and his company rapidly became one of my favorite destinations.
In the Accademia dei Racemi, now called Azienda Agricola Racemi, Gregory applies passion, professionality and a sense of enterprise. The concept of Racemi started off as a challenge: to bring Primitivo di Manduria and its Lands into the well-deserved circle of excellence of worldwide wine-growing. A generational duel that sees him facing up to his father Costantino, a great wine-producer who had been working since the Sixties, when Primitivo travelled to distant lands like France, Piedmont and Tuscany to give strength and glory to the "Great Wines" of others.
Gregory manages to create synergy in his territory, another victory. He saved so many Apulian vines from the ill-advised uprooting, resuscitated a lot of others (Susumaniello, Ottavianello) and created new vineyards (surface covered in vines: 120 hectares).
Salvatore Mero is his right-hand green man, able to take good care of the vineyards of Racemi like one does with sons who show some promise and need to be believed in, who must be helped to give their best.
Racemi produces 22 labels. The great crou of primitives like "Zinfandel", "Dunico", "Felline" and "Giravolta". Wines that have contributed so much to attract the limelight towards what is now considered the most prestigious of Apulian vines.
The push towards seeking something new, digging into the past of our land, has caused the company to pave the way in this territory and on the market by promoting two prestigious but "forgotten" vines: Susumaniello and Ottavianello. We have already dedicated our attention in the October issue to the former, and the excellent "SUM" by Racemi is mentioned among the pure Susumaniellos to try.
These two vines, planted in the terrain belonging to Michele Greco, are just behind the lovely natural oasis of Torre Guaceto (north of Brindisi) and so enjoy the beneficial influence of the nearby sea.
Genetic research identifies Ottavianello with the French vine Cinsault, grown in Languedoc and Cote du Rhone. Its introduction into the province of Brindisi goes back to the late 19th century thanks to the work of a noble family from the Naples area, the Marquis of Bugnano, stationed in Ottaviano.
The relationships with the viceroy Gioacchino Murat and the French Court helped this grape travel from France for its first planting in the town of Ottaviano. After assigning large areas in the Brindisi area on behalf of the viceroy, the family evidently transferred the vine to its new property, in the area of San Vito dei Normanni.
Here the grapes took on the local name of Ottaviano or Ottavianello.
Tasting
Unlike Susumaniello it is a more aromatic wine, more delicate, less rich in tannin and antocyans but with a pleasant freshness. These qualities make for a wine that finds its moment of glory in a youthful phase (one or two years old) and this is certainly not a limit if we want to know it and appreciate it at its best.
"Dèdalo" is, as we said, obtained from pure Ottavianello grapes. A ruby-red color, with a delicate aroma of red berry fruit with floral scents. A fresh, rounded taste, to be drunk with white meats, fish or soups.
Pure Ottavianello - other Apulian labels:
Azienda Vitivinicola Botrugno Sergio: "Ottavianello"