- FEBRUARY 2018 -
Apulian Wines
TERROIR
The men, women, culture and land in wine-making
"Susumaniello"
One of the best wines made from this ancient and autochthonous Apulian species of vine: "Serre", from Cantine Due Palme
by Angelo Pellegrino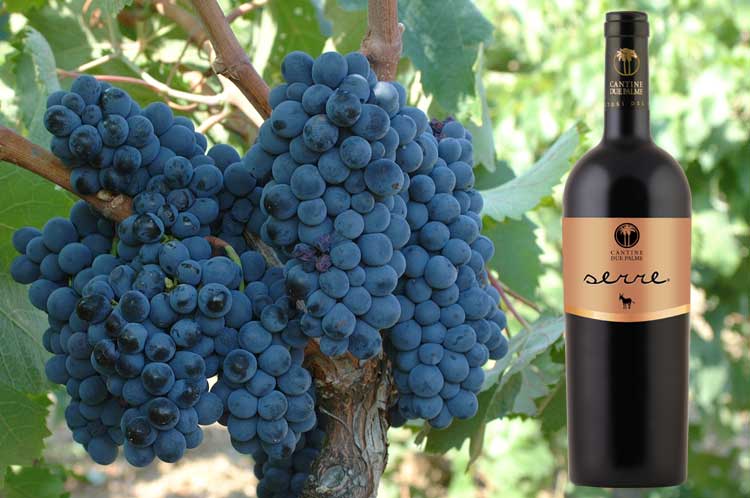 Species of vine: Susumaniello "burdened like a donkey"
Synonyms: Somarello nero, Sumariello nero, Zuzomaniello, Cozzomaniello, Zingariello, Grismaniello and Lacrima di Puglia.
The Company: Cantine due Palme
The people: Angelo Maci oenologist and chairman with his great team
The headquarters: Cellino San Marco in the province of Brindisi
The wine: "Serre" made from Susumaniello grapes.
      Our journey into researching wines, vines and history in Puglia starts from the heart of Alto Salento in those lands that lie at the junction of the three provinces: Lecce, Brindisi and Taranto. One of the most important areas in the history of Apulian wine producing.
      It is in this land of vines that in 1989 the Cantine Due Palme was founded. Its deep roots find their strength in the safe hands of more than 1,000 associated wine producers who have been able to read and interpret the strong message launched by their Chairman and oenologist Angelo Maci: to face the great challenge of the world wine market you have to come up with excellent quality. An exacting challenge, but it was accepted immediately by the army of vine-dressers in this big family that looks after 2,400 hectares of vineyards with care, passion and new-found love. He, the patriarch, has succeeded in creating a team and with a blend of tenacity and passion has created one of the most important wine-producing co-operatives in the South of Italy on an international level.
      Angelo Maci likes to define himself "a man of the land", third generation vine-dresser ; love for the land and its fruits are in his DNA, inherited from his grandfather Ettamiano, who founded a Cantina in 1940 where little Angelo took his first steps surrounded by the smell of must.
      The Cantine Due Palme produce 24 labels. The mainly autochthonous vine species are almost exclusively red berry (90%). There are some which really stand out amongst all these labels which include also some excellent spumantes, and they are the wines based on Negroamaro, the leading species in the area around Lecce and Brindisi, and alongside these the mighty Primitivo which very soon, thanks to its entry into the Due Palme family of the vine-dressers in the Taranto area, will certainly give life to new and prestigious labels.
      Our feature this month is dedicated to a wine which enhances the value and contents of the production of the Cantine Due Palme, which has made its forte the combination of wine and territory.
      Susumaniello, an ancient autochthonous Apulian vine, probably with Dalmatian origins (it is also called "Zingariello" – gypsy – which could be a clue to this background) has made its presence felt in this combination.
      Its strange name takes its meaning from the fact that its vines, above all in the first ten years, produce an exceptional quantity of bunches of grapes: "burdened like a donkey". Its grapes, picked in late September and therefore very ripe, used to be used to enrich other wines because of their high anthocyanin (pigments found in the skin, which, apart from giving color, have important anti-oxidant and anti free radical properties) content.
      About ten years ago Susumaniello came back on the scene thanks to the determination of Salento companies like Tenute Rubino and Racemi.
      Cantine Due Palme with "Serre" has managed to bring out the best in this grape and give life to a wine whose characteristics of roughness, because of the important presence of tannin and acidity, have been expertly softened by an adequate but not overwhelming sojourn in barrique (6 months).
Tasting
      A clear wine of ruby red color with violet nuances. The bouquet presents itself to the nose as complex and fine, starting from hints of ripe red fruit like plum, black cherry and blackberry jam, to give way to spicy sensations of pepper and vanilla. To the taste it's a dry wine, warm and soft, pungent and fresh with the tannin dulled in its roughness by the time spent in barrique. Intense and persistent with final gustatory and olfactive sensations that take you back to the plum and the blackberry.
      It should be drunk at a temperature of 18 degrees Celsius and goes well with tasty first courses, of which there are many in Apulian cooking, red, grilled meats, game and medium-seasoned cheeses like Caciocavallo podolico, one of the gems of Southern Italian cheese-making.
Pure Susumaniello - other Apulian labels:
Tenute Rubino: "Torre Testa"
Accademia dei Racemi: "Sum"
Masseria Li Veli: "Susumaniello Askos"
Apollonio: "Elfo"
Tenute Angelini: "Susumaniello"
Tenuta Patermio: "Nomas"
Progetto Vino: "U'Cucci"